CONSUMER
***********************************
Looks and Functionality Matter in Mens' Wear
By Al Berrios
In a latest al berrios & co. Micro-Study surveying men aged 13-35 throughout the entire U.S., 27.7% of men prefer specific clothing labels for the look and the styles they offer, while 21.3% prefer their clothing to be comfortable. But interestingly, the third most popular reason at 8.5%, for purchasing a specific clothing label is no reason at all. This percentage is possibly influenced by marketing communications, parents, siblings, partners, word of mouth, or impulse and indicates a low-hanging apple of a market for clothing manufacturers to try and grab. Thirty percent of this group currently has no brand preference.
With regards to price, 6.4% prefer clothing that's affordable vs. 2.1% who prefer clothing that's expensive.
With regards to styles, 6.4% prefer clothing that makes them look sophisticated vs. 6.4% for clothing that's long lasting or sturdy.
Tastes included Hip Hop, all black color, tribal, sporty, baggie, and originality of style (most notably urban brands.)
Among the more popular brands, Gap brands Old Navy and Banana had a representation of 7.2%, Polo, 5.4%. Surprisingly, designer brands such as Armani ranked equally with mass-market brands like J.C. Penney's Arizona with 1.8% of our population preferring them and "underground" brands such as Triple 5 Soul and Esdjco are noticeably permeating into the larger consumer mindset with equal interest from 1.8% of our population.
With hundreds of brands, our population of under 100 could never represent them all, even if each consumer we interviewed mentioned at least two brands (which many did to the question: what is your favorite clothing line?). As a result, the average for any brand was 2.8%.
Brands such as Adidas, American Eagle, Brooks Brothers, Nike, Reebok, Levi, Rocawear, Tommy, and Calvin Klein were all mentioned by 3.6% of our population.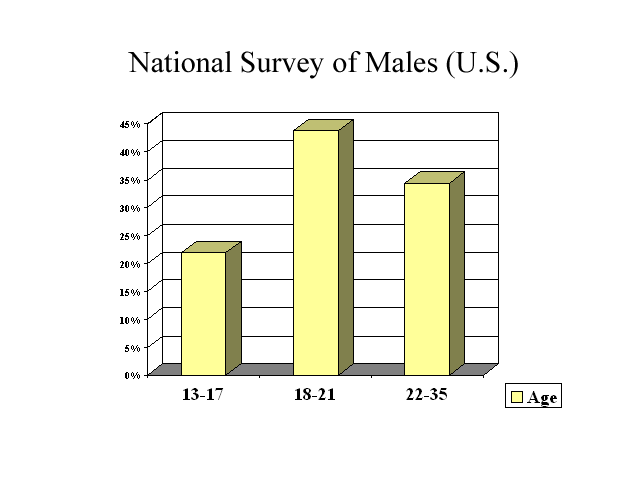 Source: al berrios & co. Mens' Wear Consumer Micro-Study Dec. 03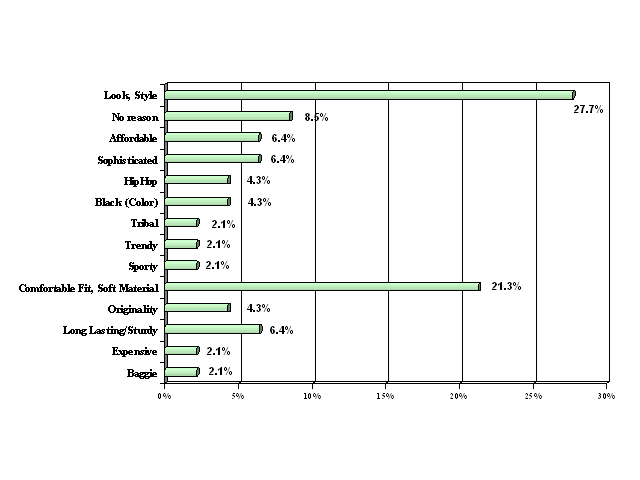 Source: al berrios & co. Mens' Wear Consumer Micro-Study Dec. 03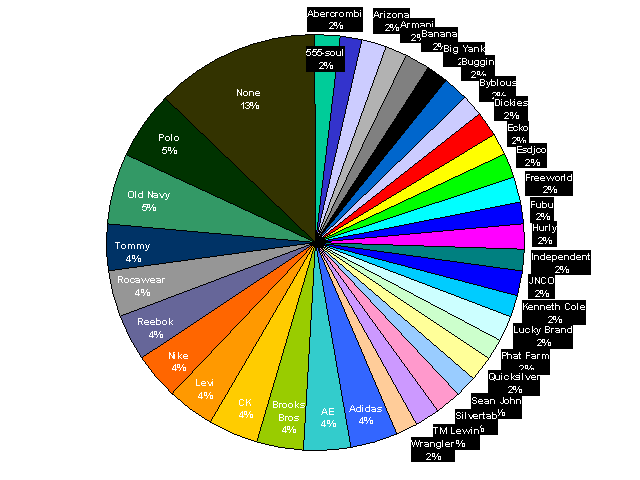 Source: al berrios & co. Mens' Wear Consumer Micro-Study Dec. 03

RELATED AL BERRIOS & CO. ARTICLES
> Apparel + Beauty

RELATED ALBERRIOS.COM SECTIONS
> Apparel + Beauty Trade Groups


Disclaimer: The recommendations, commentary and opinions published herein are based on public information sometimes referenced via hyperlinks. Any similarities or likeness to any ideas or commentary from any other sources not referenced is purely coincidental. al berrios & co. cannot control any results occurring from advice obtained from this publication nor any opinion(s) conveyed by any reader of this publication.

(c) 2001-2005. All Rights Reserved. al berrios & company, inc. Published by al berrios & co. This Report may not be reproduced or redistributed in any form without written permission from al berrios & co., subject to penalty.