trade event

---
NRF Big Show 2005, + + + + +
By AL BERRIOS



I have previously commented that if you go to just one retail-related conference during the year, this should be it. Despite the North Pole's climate descending on NYC during the week, there were thousands of attendees from all over the world. You could stand anywhere and at any given time, you'd hear at least 4 different languages being spoken. Exhibitors and sponsors spared no expense, with displays being self-contained environments that you didn't want to leave. IBM and Intel had the largest by exhibit quality, although all of the big tech firms were obvious in their attention-getting exhibits - SAP, SAS, Microsoft, Seibel, HP, Xerox, etc - and all had just one goal: selling to the retailer.

In case you hadn't gotten the picture yet, the National Retail Federation is composed of over 1 million retailers around the world with combined sales of nearly $4 trillion. That attracts a lot of "vendors" (even consultants and bankers) willing to spend to get their attention.

But the NRF's role isn't just to create forums for retailers to check out vendors' goods, it's also a political voice to speak out on topics of relevance to the retail community - sales tax changes, international trading quotas, minimum wage changes, and even our current social security issues - an industry that employs 20% of the country. How much pull do you think that little fact buys on The Hill?

In this world of power-players, the bigger the vendor, the more attention it receives from NRF management and few companies continuously remind you of their clout as Goldman Sachs. A top sponsor, they had no noticeable presence (despite the money I'm sure they paid for their top billing) other than their name in the program guide and an unmarked meeting room at the far back of the gigantic show floor, as if to say, "If you didn't know we were here, we don't need to talk to you." (Federated's deal with May's was probably being cooked up back there during the show. We'll never know, I suppose).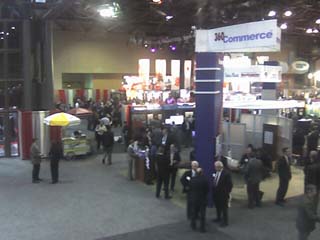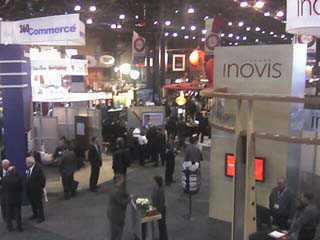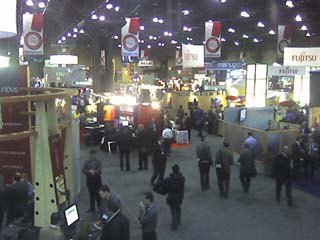 Who leads this powerful bunch? A Hillary Clinton look-alike named Tracy Mullin. Her bland personality and almost disconnected presentation on stage made her less attractive than she probably is. I suppose when you deal with every major retailer in the world on a daily basis (all of which are managed by men), that's what you end up like if you're a woman. I'm sure there's not a deep management bench waiting to take her job when she gives it up.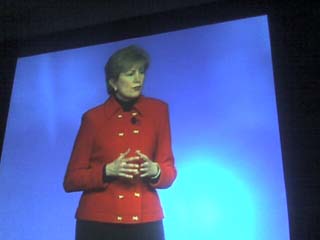 My one con about the conference was the sheer volume of other consultants I came across. It was unavoidable: during breakfast, show floor walks, and even exiting, consultants were everywhere. And true to observations pointed out during last November's Consulting Summit, they were all "pale and male". (The closest thing there resembling "diversity" were the Spanish retailers from Spain and security). The really big consultants had massive sponsorships that gave them ownership of everyone's time at certain points during the conference, while the rest of us were relegated to a name badge and some luck.
Overall, from registration to conference sessions to entertaining exhibits, the Big Show merits 5 pluses, + + + + +.

Write to Al Berrios at editor@alberrios.com


Related Reports

- Leadership is About Leading

- The Eminent Demise of Network Television

- In-Store Media for the Small Retailer

- Of Three Brains, You Want to Sell to the "Reptile Brain"

Top


Related alberrios.com Sections
Disclaimer: The recommendations, commentary and opinions published herein are based on public information sometimes referenced via hyperlinks. Any similarities or likeness to any ideas or commentary from any other sources not referenced is purely coincidental. al berrios & co. cannot control any results occurring from advice obtained from this publication nor any opinion(s) conveyed by any reader of this publication.

(c) 2005. All Rights Reserved. al berrios & company, inc. Published by al berrios & co. This Report may not be reproduced or redistributed in any form without written permission from al berrios & co., subject to penalty.