trade event

---
The Token Spanish Guy - Reviewing Fernando Ferrer
By AL BERRIOS




I am not a political commentator and am no where near as proficient in New York City politics as I'd like to be. In fact, I'd say I know about as much as the average voter on the street. On two occasions now, I've had the good fortune of listening to Mr. Fernando Ferrer, a mayoral candidate in 2001, and again this year, qualify himself as the best choice. Frankly, I'm not yet impressed.

The first time I heard the former Bronx Borough president speak was at a Drum Major Institute event (1) hosting Sen. Tom Daschle with the theme of 2004 Year in Review at a meat packing district night club called Lotus (not the most austere of venue choices, but unique nonetheless). Freddy introduced C. Virginia Fields (another prominent mayoral candidate this year, but not yet by the time of this event), who was then to introduce the Senator. Based on the Drum Major Institute's stance on policies I'd like to call "taking-from-the-hard-workers-to-give-to-the-no-workers" and Sen. Daschle's support of this stance, I have a pretty good idea what Freddy stands for, too.

The most recent occasion I had to listen to Freddy was at Judge Howard Goldfluss' "Meet the Candidates" at the thespian Friar's Club (2), to which he arrived very late for. Coincidentally, this presentation was right after his now-infamous comments at the Sergeants Benevolent Association, where he apparently downplayed the unfortunate killing of Amadou Diallo when asked about his thoughts on it. Negative publicity was swift, given how he vigorously rode the retribution bandwagon when it happened. Like any good career-politician in an early race, his comments during these early months are strategically made to broaden his appeal, intentionally lacking any substance, and was primarily to show his warm and fuzzy side (not to mention they're his only hope of challenging Mayor Bloomberg's awesome financial war chest: "the best way to fight his spending is with more speech"). Regrettably, despite Freddy's apparent early lead against Mayor Bloomberg in the polls, from where I stand, his strongest trump-card is the fact that he's Hispanic, and you can bet your bottom political contribution that his "flip-flopping" will be used against him.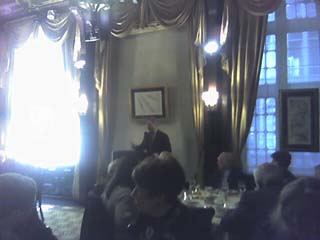 Mayor Bloomberg gets ripped too often for "buying" the election, but 3 arguments make this accusation obsolete:
- He's his own billionaire, spending his own money. Would you rather he have "bought" the election with someone else's billions, essentially putting the government in the hands of "private enterprise"?
- Opponents appear to want to misinform voters: Bloomy wasn't born with a silver spoon in his mouth; he worked for it. And he worked hard. If he did it for himself and his company, imagine what he could do for an organization like NYC? But more importantly, why do the Dems think that being rich and free from the influence of powerful interests a negative for Bloomy? Particularly in a city that idolizes Trump and his Apprentices? You think Spitzer could have done what he did with the D.A.'s office if he wasn't independently wealthy?
- If "buying" the election means offering jobs to community leaders making next to nothing; fixing up community facilities that the city has ignored for years; and forcing change down the throats of educational bureaucrats who have stood by for decades and watched our parents pay more to see their children get dumber, then call me Bloomberg's b*!$#.
Please allow me to preface these arguments with my personal preference for professionals of diverse backgrounds tackling new challenges. Unlike career politicians, or worse, career academics, whose perspectives are severely limited in practical applicability, professionals such as Mayor Bloomberg have prioritized the issues as a lifelong citizen and businessman in the city and addressed them accordingly (again, without the influence of interest groups). Freddy isn't ashamed to brandish his tenure as a private citizen for all of two years as his most relevant credential to judge the current mayor and he lives and dies by the leanings of the unions. (Although I did agree with some of Freddy's proposed solutions to our school problems, his success would be impeded by the unions.)
As Freddy correctly noted, voters clearly respond to speeches. But in the end, voters want to see doing, too. Koch did more doing than talking. Dinkins did more talking than doing. Giulianni did more doing than talking. "[Freddy's] only weakness is his punctuality", said Fred Klein, of law firm Klein, Zelman, Rothermel & Dichter LLP. And as far as I can tell, Bloomberg's been doing. If you were an average voter in the street, who would you vote for?

Write to Al Berrios at editor@alberrios.com

Top

Footnotes

(1) January 27, 2005

(2) March 15, 2005

Top

Related alberrios.com Sections
- Society + Culture

- Consumers + Politics

- Politics + Law

Disclaimer: The recommendations, commentary and opinions published herein are based on public information sometimes referenced via hyperlinks. Any similarities or likeness to any ideas or commentary from any other sources not referenced is purely coincidental. al berrios & co. cannot control any results occurring from advice obtained from this publication nor any opinion(s) conveyed by any reader of this publication.

(c) 2005. All Rights Reserved. al berrios & company, inc. Published by al berrios & co. This Report may not be reproduced or redistributed in any form without written permission from al berrios & co., subject to penalty.