research

---
Non-Profits Must Stay Small, Relevant, and Connected
By DARYL YAP


The key to success for a non-profit organization is to remain small, relevant and connected.

"But I Want to Get Big!"

Too many times, non-profit organizations succumb to the management model of for-profit organizations, where they desire to become bigger. However, much care needs to be taken such that the "Walmart" mindset does not enter this line of business. Unlike Walmart, non-profits do not boast of the lowest prices around. They do not attempt to wipe the competition out and assume the position of the charitable organization with the highest "market share." Fundamentally, they are not out for profits. Their source of "income" is from donations and there is a need to recognize that the only product they are "selling" is goodwill from donors. Their key value in the mission statement is to help, and that has to be kept in perspective when they make decisions.

Small Scale of Operations = Low Operating Cost = More Money For Intended Recipients

The main advantage of being small is that there is no need to be bonded by high operation and administrative costs, which are the problems that arise when a firm becomes big. Again, this line of business is supported predominantly by donations, and high costs incurred in areas of administrative and operations would mean smaller donations to the intended recipients. Frugality is essential and there is a need to minimize any unnecessary costs.

Winning That Dollar Without The Size

There are many big industry players like United Way, American Cancer Society and Salvation Army that are major contenders for charitable dollars. However size does not matter. What matters more is how relevant the charities are to the needs of the community. In a recent micro-study conducted by our firm to analyze charitable behavior, we found out that people give mainly because of two actual reasons:

- Donor affiliation to the charitable group
- The "Feel Good" Element of Helping

Donor Affiliation to the Charitable Group

In our study "Why Do People Give To Charity", we found that just 5% give because of personal affiliation with the organization. They feel a sense of belonging to that group because it is a community establishment. For example, there was one respondent who donated to the charitable group Appalachian Ohio because he was an Ohio resident himself, and thus could identify himself with the organization. The key idea here is identity. If people can identify themselves with your group, they will be more willing to donate. In order to achieve that, we have to tailor our organization to the community. One way of doing that is to make it known to the community that the organization is "built by the community, for the community". The "shareholders" would thus be the community residents, and this creates a sense of ownership. Because of the relatively small number of respondents claiming relevance of organization to them, yet it being one of the study's most clearly articulated reasons for giving, there is an enormous opportunity here for non-profit differentiation.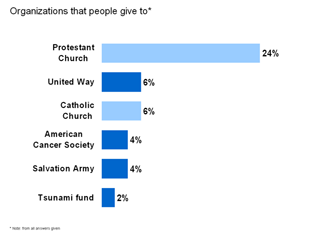 The "Feel Good" Element Of Helping
Not surprisingly, people give simply because they want to help. An eye-popping 41% of our respondents give simply because they believe in giving and would give to any charity. This "feel good" element from giving isn't focused, allowing the big institutions such as churches and United Way to capture the bulk of this giving. Thus, we believe that the size of the charity does not necessarily matter. One respondent said that his local charity was largely inactive in its efforts to compete with bigger players to win his dollar. The key idea here is that there is a market out there for small non-profits to harness for donations. However, smaller charities have to step up efforts in obtaining community visibility to collect that dollar.
Steps To Increase Public Visibility
What is important is community visibility of the organization. There is a need for smaller charitable organizations to step up a notch in raising awareness of their presence. Some suggestions are:
1) Partner With Churches or Faith-Based Organizations
Charitable organizations can partner with local churches and faith-based organizations to raise money and increase visibility. In our study we found that a significant 26% of people give to churches. Furthermore, our research shows that 40% of churchgoers practice regular tithing and are financially supportive of church events. By partnering charity with a church, this would secure a stable stream of donations from churchgoers.
2) Partner With Schools
Schools are supportive of charitable organizations and students are generally encouraged to be involved in them. New York University for example has a program called the President's C Team where students can volunteer in the many charitable organizations that are available. 54% of our respondents were between the ages of 18-25 and it is common knowledge that student volunteers are generally passionate, enthusiastic and hardworking. Harnessing this volunteer group would effectively introduce your mission to a younger generation, a chronic headache for older non-profits.
3) Seek Donations From Corporations
Corporations are riding the wave of corporate philanthropy. Our research found that corporate donations surged by 18.3% since 1999 and they are a viable source for donations. We suggest that the organization approach relevant local corporations to seek for donations, presenting a focused mission and initiative to these corporations.
4) Partner With Other Public Organizations
It would be a good idea to partner with other existing public organizations like museums and libraries to increase visibility. For example, libraries could hold theme-reading events like "Understanding Aids" in conjunction with a local organization that assists Aids afflicted victims. Museums could hold theme-culture exhibitions like "Children in Paintings" in conjunction with a local organization that promotes education for underprivileged children.
Bottom Line
The main idea behind these solutions is to generate community awareness and increase visibility without the exorbitant expenses of a marketing campaign. There is a need to bring the message across that the organization is tailored to help its immediate community. By doing so, public affiliation and connection would be established and this would translate to larger amount of donations received.
Public trust needs to be restored back to charitable organizations, especially with recent tax fraud scandals that have hit large non-profit organizations. Keeping the organization small, relevant and connected would help restore public trust, reduce unnecessary operations and administrative costs, and attract a larger pool of donors.
Write to Daryl Yap at editor@alberrios.com

Top

Related alberrios.com Sections
Disclaimer: The recommendations, commentary and opinions published herein are based on public information sometimes referenced via hyperlinks. Any similarities or likeness to any ideas or commentary from any other sources not referenced is purely coincidental. al berrios & co. cannot control any results occurring from advice obtained from this publication nor any opinion(s) conveyed by any reader of this publication.

al berrios & co. does and seeks to do business with companies covered in its research reports and studies. As a result, the reader should be aware that the firm may have a conflict of interest that could affect the objectivity of this report or study. Readers should consider this report or study as only a single factor in making any strategic or investment decisions.
(c) 2001-2005. All Rights Reserved. al berrios & company, inc. Published by al berrios & co. This Report may not be reproduced or redistributed in any form without written permission from al berrios & co., subject to penalty.