For immediate release:
Contact:
Press Inquiries
al berrios & company, inc. Announces Launch of Conxulting.com, the Most High-Quality, Free Professional Business Advice for Entrepreneurs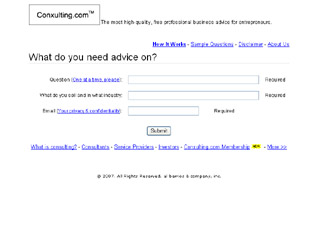 Source: Conxulting.com
New York, NY, June 4, 2007 - al berrios & co. is extremely proud to announce the launch of Conxulting.com, the most high-quality, free professional business advice for entrepreneurs. The result of a year-long survey of entrepreneurs and development of our proprietary Levels Lens Analysis, this online resource aims to redefine how critical and valuable advice on business strategy is delivered to businesses at all levels of growth.
Based on "Levels Lens Analysis" of businesses, which categorizes entrepreneurs and their businesses into progressive Levels of performance, the firm identified an enormous opportunity to service entrepreneurs in the initial Levels of launching their businesses.
Unlike the "pre-launch", "pre-revenue", "very small business", "small", "medium", and "large" categorization of a business, categorizing entrepreneurial ventures into any one of eight Levels presents enormous opportunities for innovating in how relationships with these businesses are developed, managed, and profited from. One of the very first innovations resulting from our proprietary Levels Lens Analysis is Conxulting.com.

Managing Director Al Berrios: "This service has many grand goals, not least of which is helping a larger number of entrepreneurs and would-be entrepreneurs take an idea or business to where they'd like it to be. If our firm and partners can help entrepreneurs accomplish their objectives on their terms, while simultaneously proving the value of great advisors, then Conxulting.com will have done a lot."

Conxulting.com offers opportunities for consultants, accountants, bankers, and every type of service provider to offer their goods and services to an ever growing number of entrepreneurs who visit Conxulting.com regularly for high-quality business advice. Please visit www.Conxulting.com for more information.

# # #
About al berrios & co.
al berrios & co. is a pure strategy + behavioral economics consulting firm, specializing in advising organizations + entrepreneurs on managing their enterprises in a service economy. For more information, visit: www.alberrios.com.