al berrios & co. Research
***********************************
The al berrios & co. Wireless Consumer Study March 2004 Abstract
By Al Berrios (contact Al Berrios)
Compared to the big 6 wireless carriers, T-Mobile is the most liked at 69% vs. Sprint who is the most disliked at 25%. This was one of several key consumer sentiments revealed by the recent al berrios & co. Wireless Consumer Study March 2004.
From November 2003 through February 2004, al berrios & co. interacted with over 2000 consumers on topics ranging from their wireless carriers to their favorite stores. This report concentrates on consumer sentiments towards wireless carriers.
Other key findings:
1) Wireless carriers have no clear strategy to pricing their services in comparison to their competitors. In fact, their strategy has been so far marketing driven to the point where consumers actually misperceive value. (i.e. Verizon users love their plans, yet T-Mobile has the most affordable industry wide).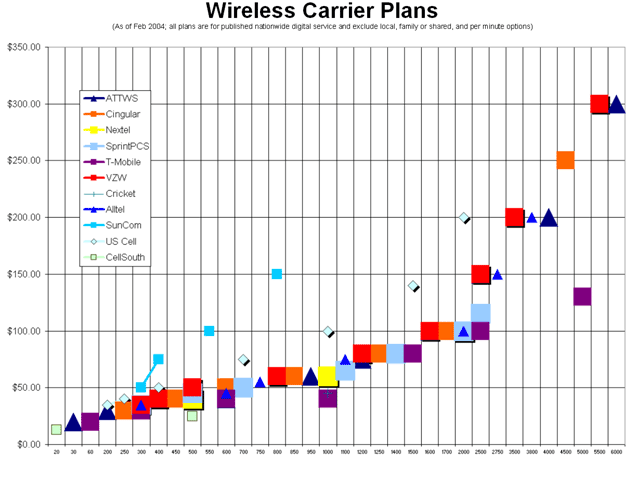 2) When wireless carriers decided to launch retail outlets, they generally neglected to significantly invest in the sort of training that facilitates effective dissemination of promotional offers. In fact, based on the feedback we got, wireless store retail employees aren't particularly aware of any value-based promotions offered by corporate.
3) It is a generally believed fact that Verizon Wireless possesses the "best" network. Our findings indicate consumers believe as much as well. However, because all the carriers are public companies with only one core competency, it is reasonable to expect the big 6 carriers (AT&T Wireless, Cingular, Verizon Wireless, T-Mobile, Nextel, Sprint PCS) all make sufficient investments to claim nationwide coverage for their subscribers. Based on our data and other anecdotal evidence, one of Verizon Wireless' advantages to their current perception is also the belief that they instill in their salesforce, who subsequently pass that belief down to the consumer. It's quite possible that Verizon Wireless' "superior" coverage is mostly the result of a motivated workforce than actual fact.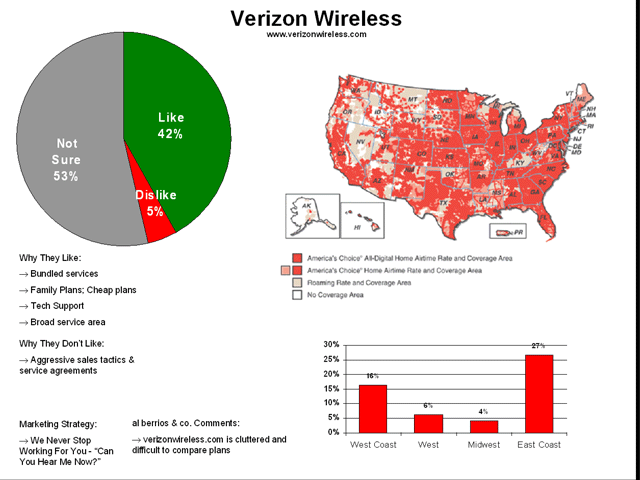 4) Wireless carriers have not extensively courted the 13-17 consumer. Although pre-paid plans are offered by almost all the big 6 carriers, based on our findings, it's clear that Verizon Wireless has the segment all to itself. We believe this is partly due to its extensive family plan offerings, more than actual courting.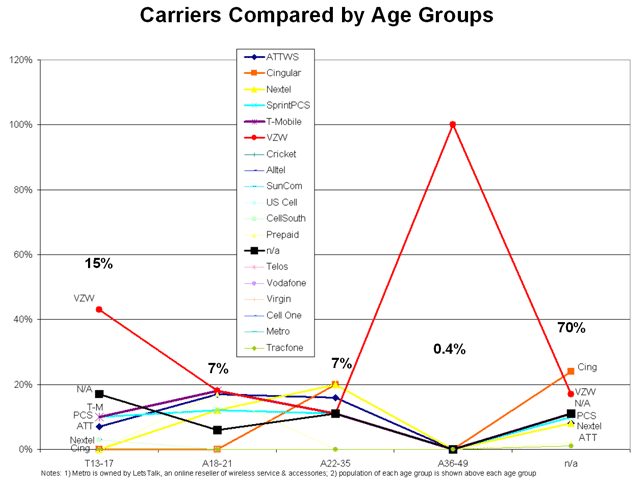 For the complete wireless study or more information or strategic recommendations, please contact Al Berrios, Managing Director, al berrios & co. or visit our Media Practice.
Disclaimer: The recommendations, commentary and opinions published herein are based on public information sometimes referenced via hyperlinks. Any similarities or likeness to any ideas or commentary from any other sources not referenced is purely coincidental. al berrios & co. cannot control any results occurring from advice obtained from this publication nor any opinion(s) conveyed by any reader of this publication.

(c) 2001-2005. All Rights Reserved. al berrios & company, inc. Published by al berrios & co. This Report may not be reproduced or redistributed in any form without written permission from al berrios & co., subject to penalty.