trade event

---
Investing in the Mercurial CEO
By AL BERRIOS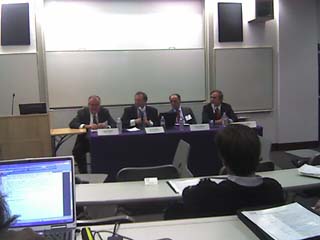 At a recent Institutional Investor as Owner Conference (hosted at NYU on Friday, Feb 4, 2005), I was fortunate enough to lunch with Nell Minnow, (unbeknownst to me, a feared investor activist). Ms. Minnow's first company was Institutional Investor Services. Her second is The Corporate Library. Not at all shy about sharing her thoughts on what's right or wrong in the executive office of public companies, if she's looking at your company, beware. Eager to play devil's advocate, I brought up a topic near and dear to me: what would be the point of an exec sacrificing and diligently working his or her way up the corporate ladder for 20, 30, 40 years, learning all the leadership qualities to someday become the CEO of a public company, just to surrender his or her aspirations of wealth, prestige, and authority to some committee called the board of directors? (When was the last time "the board" was on the cover of Fortune? Or what "independent board" has ever had to tell a co-worker that they have to get cut from the payroll because a shareholder thinks him and his 4,999 buddies are taking a penny too much from earnings?)
After she laughed at even the suggestion that a CEO had the right to draw wealth, prestige, and authority from his position, her response was that if the CEO wants these rights, he should quit the public company and join a private company. Perhaps I'm biased, but this to me sounds like a narrow-minded solution and the extinction of risk-taking, wealth-creating, talented managers willing to take on the challenge of wringing value from complex organizations. After all, based on historical precedent, investors willingly give money to incredibly risky ideas when times are great, and only complain when they lose money, as if they didn't realize that investing was at their own risk. Ms. Minnow, it works both ways, if the investor doesn't like the way the CEO is running things, they should simply take their money out of the stock. If the investor lacks the information, don't blame the CEO, blame the stock-jobber that sold it to them for a transaction fee.
There's no question that "shareholder activism" has uncovered billions in value (surely the recent toppling of mercurial CEOs Hank Greenberg, Mike Eisner, Carly Fiorina, and Dick Grasso has humbled the rest of them), but the moral flaw in the activist investor model is that it's done for the same reasons as any other form of investing - to make more money. In other words, despite the fanatical zealotry of narrow-minded activists, they're out to make a buck like everyone else.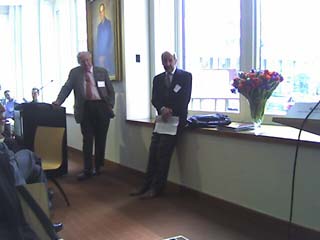 But let's explore further the rights of a mercurial CEO. They routinely expand the total value of their organizations by triple and quadruple what it was before them vs. their peers' barely doubling; perhaps their pay packages aren't excessive, but suitable. Dick Grasso lived and breathed NYSE. He utilized his knowledge of how things operated from a lifetime of service to the exchange, to build the #1 exchange on earth. One could say that his management was above average. A true meritocracy would recognize this, rather than complain that everyone else isn't making what he made so he didn't deserve it. More mindboggling was the reaction of these mediocre peers: let's sue Dick to return what we already paid him!
Mercurial CEOs move forward on innovations that would have been mired in a risk-averse corporate bureaucracy; no one wanted Disney to go into DVDs or buy Capital Cities, except Eisner. Today, Disney DVDs are more profitable than the films and ESPN is a must-have for every cable operator. Despite his detestable management style, Eisner turned Disney into a hugely successful company. As a reward for his passion and loyalty to the company (at his peak, he could have run any company he wanted, but chose to stay at Disney) he was virulently forced into early retirement.
Mercurial CEOs understand that the shareholder isn't the only constituent, so despite protest that they may not be taken into consideration in every decision the company makes, the company run by an authoritarian CEO is always the one that makes the most money for you. Carly didn't need to answer to everyone, as long as she kept everyone in mind. She accomplished things some male CEOs could never do, generating immense, sustainable long-term value for generations of future HP shareholders from her three most significant decisions: consolidating authority in her office, turning down a PwC acquisition, and completing the complex Compaq acquisition. This is what she was hired to do. But because scions were no longer the center of attention anymore, or perhaps because she defied playing nice with others in order to get things done right her own way, or maybe even because she was a girl upstaging the boys at their own game, she was fired.
But most importantly, if a CEO's value is merely based on how much the stock is worth, then the only way he can truly control that value is by controlling every aspect of the company without the interference of those who don't understand what it really means to run anything. Hank Greenberg was renown for his mastery over the complexities and dealings of AIG, from the Byzantine ownership structure to the farthest reaching affiliate. He even participated in client presentations, too. Today, his firm is the #1 insurer on earth. And after 40 years of uninterrupted growth, some wannabe governor with a vendetta against his family caused Hank to give up his CEO title.
Interesting how shareholder activists don't have anyone but themselves to answer to.

Write to Al Berrios at editor@alberrios.com

Top

Related alberrios.com Sections
Disclaimer: The recommendations, commentary and opinions published herein are based on public information sometimes referenced via hyperlinks. Any similarities or likeness to any ideas or commentary from any other sources not referenced is purely coincidental. al berrios & co. cannot control any results occurring from advice obtained from this publication nor any opinion(s) conveyed by any reader of this publication.

(c) 2005. All Rights Reserved. al berrios & company, inc. Published by al berrios & co. This Report may not be reproduced or redistributed in any form without written permission from al berrios & co., subject to penalty.