trade event

---
Conference of Social Entrepreneurs: Financing Start Up Social Ventures
By AANKIT PATEL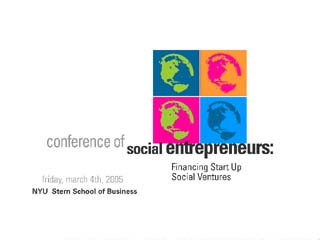 I walked down to the lower level of NYU's Leonard N. Stern School of Business at 8 o'clock in the morning on a Friday March 4, 2005 and found the space outside of the Schimmel Auditorium filled with tables surrounded by chairs still waiting to be sat in. Unfortunately, it appeared that most social entrepreneurs are not morning people. As such, the conference that was scheduled to start around 9, started quite a bit later. Steve Mariotti however, made the wait worth it with a remarkable keynote. A former high school gym teacher, Mr. Marriotti is the founder of The National Foundation for Teaching Entrepreneurship, (NFTE, pronounced 'nifty'), a 20-year old not-for-profit teaching young people in low income communities how to develop and start businesses instead of gangs. He offered a revealing presentation to a strange amalgam of social entrepreneurs on how he got from point A, the idea of NFTE, to point B, the beginnings of NFTE, to point C, the mistakes he made during the beginnings, to point D, the success that is NFTE and its strategy moving forward. This is in stark contrast to the disappointingly abridged point A to B success stories, where point B is the success.
Mr. Mariotti set the theme for the first half of the day. Social entrepreneurs were taught a lesson in adapting and shifting their venture without losing focus of their mission. In a social venture, the entrepreneur is seldom motivated by profit, autonomy, or innovation, but by the opportunity to change the status quo in a significantly positive way. Consequently, the business of social entrepreneurship is currently plagued by a lack of capital, where not even a philanthropic infusion would serve as a cure because of generally weak non-profit financial management infrastructures. Mr. Mariotti's inspiring keynote elucidated some measures that could be taken by new social entrepreneurs in order to create stronger financial management, establishing a strong board of directors and weighing the choice between for-profit and not-for-profit.
The conference, which was organized by NYU's Satter Program in Social Entrepreneurship, flowed smoothly from the morning to afternoon sessions with a delicious lunch. During lunch I decided to immerse myself into this melting pot of social entrepreneurs by sitting down at the most diverse table. The first table I noticed sat a young "hippie" couple, a rugged mountain man, and thin, drawn middle aged white man, and a frazzled, talkative older woman. Those were my lunch companions. I found that the "hippie" couple were not a couple but in fact two friends that have seen cancer ravage their personal lives and that the mountain man was actually the charisma behind the middle aged white man in their quest to aid ex-cons become contributing members of society. I was dazzled by the talkative older woman, who for all her talking never really said anything. The quiet, focused enthusiasm of the two other pairs stood in stark contrast with this woman's ramblings and helped me to realize that for every two truly noble social entrepreneurs there would always be one that had severely lost sight of his or her vision.
The second keynote was delivered by Mario Morino of Venture Philanthropy Partners. Mr. Morino elaborated on many issues troubling the social capital markets, but one, which has special significance to me, emerged as the primary affliction: the narrow view of value to which the capital markets currently subscribe. (1) Mr. Morino also spoke very strongly for the capability and the productivity of the oft-maligned social entrepreneur citing their motivation as the key to their long-term success and value. I would respectfully disagree with Mr. Morino, since it doesn't take a behavioral strategist (which I happen to be) to figure out that the natural tendency of the best and the brightest is to gravitate to the best compensation, which Mr. Morino generally neglected. Although our research indicates that monetary rewards isn't the overwhelming motivator for many workers (2), and altruism is surprisingly prevalent despite its unquantified impact on an organization (3), attracting talent to a social venture's cause in the long term without competitive compensation and clear mission is extremely difficult.
The conference left attendees with a greater understanding of the fundamental success drivers for social ventures in the U.S. Internally, social entrepreneurs needed to establish a system that intelligently uses financing and smart business people to be on their board and staff and to think creatively about their structures. Externally, the challenges were more daunting in that social ventures need to redefine the standard definition of value for investors. As the social investing discussion is beginning to move out of academia, Mr. Mariotti, Mr. Morino, and the NYU Satter Program should be applauded for providing clarity and vision in what has been a somewhat muddled sphere of business.

Write to Aankit Patel at editor@alberrios.com

Top

Footnotes

(1) Business Policy Lessons From Our Estranged Revolutionary Allies
(2) Employers Are Overworking and Not Appreciating Their Workers
(3) Non-Profits Must Stay Small, Relevant, and Connected

Top

Related alberrios.com Sections
- Society + Culture

- Consumers + Politics

- Politics + Law

Disclaimer: The recommendations, commentary and opinions published herein are based on public information sometimes referenced via hyperlinks. Any similarities or likeness to any ideas or commentary from any other sources not referenced is purely coincidental. al berrios & co. cannot control any results occurring from advice obtained from this publication nor any opinion(s) conveyed by any reader of this publication.

(c) 2005. All Rights Reserved. al berrios & company, inc. Published by al berrios & co. This Report may not be reproduced or redistributed in any form without written permission from al berrios & co., subject to penalty.