al berrios & co. Research
***********************************
al berrios & co. Study Reveals Teens Don't Care About Their Favorite Stores Prices, Customer Service, nor Product Availability
By Al Berrios (contact Al Berrios)
It's been noted by countless marketing executives that consumers don't know what they want. Basic economic principles tells us that even if they didn't know, they'll at least choose the cheapest one of it. In a landmark study that surveys the sentiments towards their favorite retailers, al berrios & co. has published its "General Sentiments of U.S. Teens Towards Their Retailers Study Q104" which supports truths about teen behavior contrary to fundamental marketing and economic principles and will serve as the keystone for future al berrios & co. work in the area of irrational shopping behavior.
Teens ranked Wal-Mart, Hot Topic, and Aeropostale as their top 3 favorite retailers. Wal-Mart, however, wasn't selected for its "everyday low price", but because it's often the most convenient choice some teens have when they want to go shopping. Our study shows that of all factors, convenience is important to 82% of them.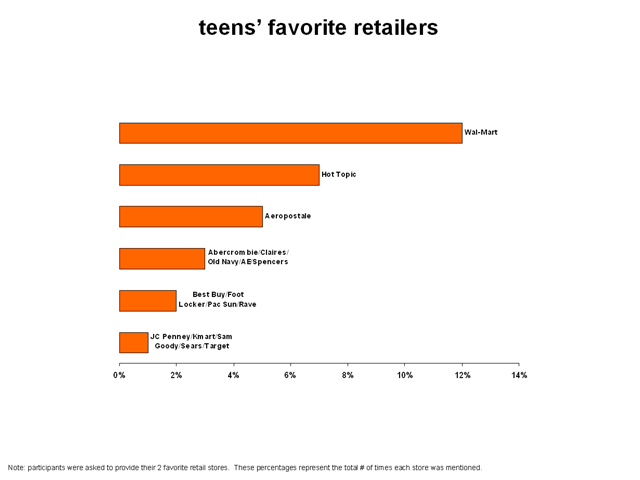 Source: al berrios & co. General Sentiments of U.S. Teens Towards Their Retailers Study Q104
Just 5% of teens thought prices at their favorite retailers were low, with prices not generally contributing to their perceptions of retailers in all price ranges.
Ninety-six percent of our teens have had positive customer service experiences at their favorite retailers, even though a startling 38% can't find what they're looking for.
To purchase the complete 21-page study, please contact Al Berrios, Managing Director. Our data is qualified from over 50 hours of conversations with senior industry executives. This study is supplemented with in-depth access to our Consumer Strategies Portal, and access to our analysts and consultants, or Al Berrios personally, for more information and strategic recommendations upon request.
Disclaimer: The recommendations, commentary and opinions published herein are based on public information sometimes referenced via hyperlinks. Any similarities or likeness to any ideas or commentary from any other sources not referenced is purely coincidental. al berrios & co. cannot control any results occurring from advice obtained from this publication nor any opinion(s) conveyed by any reader of this publication.

al berrios & co. does and seeks to do business with companies covered in its research reports and studies. As a result, the reader should be aware that the firm may have a conflict of interest that could affect the objectivity of this report or study. Readers should consider this report or study as only a single factor in making any strategic or investment decisions.
(c) 2004. All Rights Reserved. al berrios & company, inc. Published by al berrios & co. This Report may not be reproduced or redistributed in any form without written permission from al berrios & co., subject to penalty.