MEDIA
***********************************
Thirty-Five Percent of General U.S. T.V. Viewing Population Is Prompted to Watch By Word of Mouth; 23.81% From On-Air Ads; 9.52% From Billboards
By Al Berrios
In a study published in September and presented to the Advertising Research Foundation ("Comparing the HBO and Showtime Consumers Using the al berrios & co. Research Approach"), al berrios & co. discovered that pay cable programmers, particularly Showtime, has low awareness for its programming among consumers. We suggested that pay cable programmers 1) expand distribution outlets, 2) negotiate better control over pricing and viewers from distributors, 3) make marketing communications clear and relevant to market. This last recommendation has always provoked me because as many of you know, my firm got its start working with pay cable programmers and through our continued research in the area, we've learned a great deal more about consumers' consumption of media that often contradicts current efforts by media to market their content to them.
A typical marketing campaign for any television programmer includes OOH. Why? Perhaps some research says that during a commute, folks will see an ad for a show and be reminded of the time and date while sitting in front of the TV. Perhaps it's ego, and producers want the whole word to see how great their shows are. Or perhaps, it's just the only alternative they could think of instead of advertising on competitor airwaves.
Based on what consumers have told us in our recent al berrios & co. Television Program Marketing Micro-Study Dec. 2003 conducted last weekend (yes, I had people working during the snow storm), the next most effective way to reach consumers after WOM and on-air promos is OOH - 9.52% of consumers are actually prompted by billboards to watch a specific television program, whether cable or basic. (Editor's Note: Our interview question was: Do billboards, flyers with your bill, or word of mouth make you want to watch your favorite TV show? Some consumers didn't know what word of mouth was, others told us things we didn't think of.)
Personally, I've always wondered why television marketers try to reach me on the train ride to work. If I'm lucky enough to see it on the commute back home, I'm typically distracted by on-air promos, TV listings, radio spots, or good old fashion channel surfing, to remember the time and date of the show I saw on some billboard.
However, where else would programmers market their shows? As claimed in the headline to this Report, 23.81% are prompted to watch a particular program because of on-air promotions, 21.43% from channel surfing, 4.76% from program listings (internet, newspaper, and TV Guide), and a surprising 2.38% actually tune in to re-runs of old faves or shows with their favorite actors without prompting from any sort of marketing communications (an explanation for the success of TV Land?)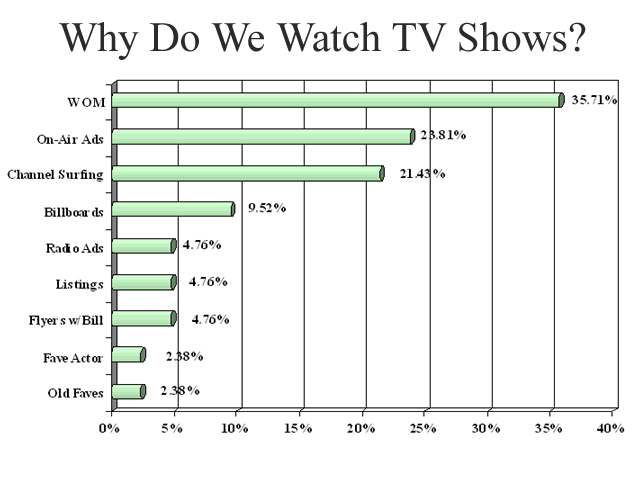 Source: al berrios & co. Television Program Marketing Micro-Study Dec. 03
Since programmers are already leveraging their on-air time as effective as possible, (making them a pretty annoying form of advertising, according to some research I've seen), they're left with two alternatives - WOM and OOH. Since marketers still believe WOM is uncontrollable, OOH is the only logical option. Do I agree that OOH is an effective marketing approach for television program marketing? No. However, our results are pretty clear.
But to marketers who still believe that WOM is uncontrollable, I would like to present iMarketing - our research methodology in reverse. Rather than collect data, we spread a message, virally. We have published dozens of studies, insights, and reports detailing the how's and why's of this approach, and to date, it has successfully initiated and tracked WOM for several large corporate clients in our various practice areas.
The age group of our population was 12-49, predominantly skewed to males (76.19%, so that we can add our two-cents to the "missing males" debate currently occurring in TV world), and representative of the entire U.S.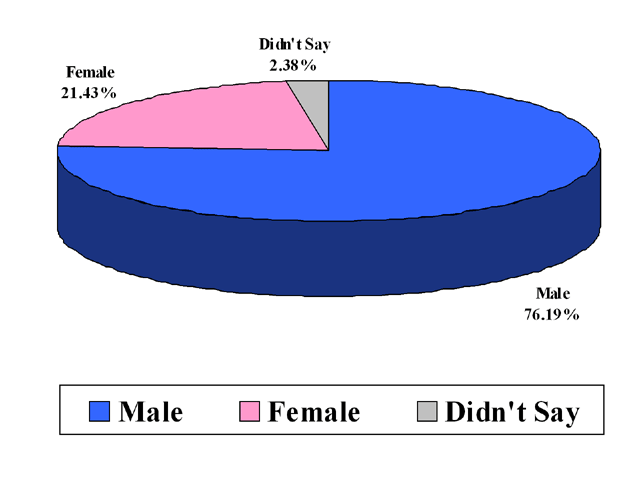 Source: al berrios & co. Television Program Marketing Micro-Study Dec. 03
Although this study should by no means be the basis for future television program marketing strategy decisions, nor does it disprove long-established business models, it is a good guide for continued research in the area.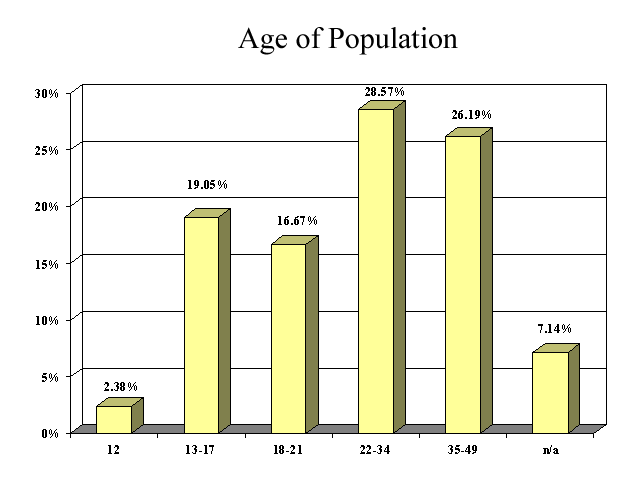 Source: al berrios & co. Television Program Marketing Micro-Study Dec. 03
RELATED AL BERRIOS & CO. ARTICLES:
> "Marketing Network TV"
> "The Future of Media Planning and Media Marketing"

Top


Disclaimer: The recommendations, commentary and opinions published herein are based on public information sometimes referenced via hyperlinks. Any similarities or likeness to any ideas or commentary from any other sources not referenced is purely coincidental. al berrios & co. cannot control any results occurring from advice obtained from this publication nor any opinion(s) conveyed by any reader of this publication.

(c) 2001-2005. All Rights Reserved. al berrios & company, inc. Published by al berrios & co. This Report may not be reproduced or redistributed in any form without written permission from al berrios & co., subject to penalty.