Al Berrios interviewed in RFL Communication's "Research Department Report" Newsletter
Our Managing Director presents our research methodology to research community
New York, NY (September 2003 - 9:00 a.m.) - Earlier this month, Al Berrios formally presented our research methodology to the research community at large via the Advertising Research Federation's Week of Workshops.
"This interview by RFL Communications continues to validate our innovative approach to gathering data about our client's constituents, a process we will continue to refine to add that missing element to our clients' perspectives on all their constituents," said Al Berrios, Managing Director of al berrios & co.
To view/print the article, click on the images below.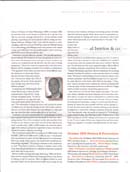 For more information or site visits, please contact al berrios & co. at (212) 201 - 2903. All press releases are printer friendly.
al berrios & co. advises organizations on their strategic alternatives, integrating social sciences to our advice and offering clear guidance on how behavior impacts the viability and value of their strategies & tactics.
# # #