media

---
Circulation vs. Readership
By AL BERRIOS


Great! Your circulation has doubled in the last few years and your subscriber churn has slowed. But fewer advertisers are showing interest and you haven't made an actual profit during this time. You want to believe it's attributable to the launch of several new content sections, but the truth is that the bulk of your higher circulation numbers came from a decrease in the price of your core content edition. Now, you've got to make some choices: should you

a) continue investing in a new sections in hopes of adding enough value to turn more readers into exclusive readers to draw advertisers,

b) cut all non-core content (and costs) from the budget to focus on investing in your core content, a critical point of differentiation, or

c) buy out your competition, to give advertisers and readers no choice but to come to you.

During an 8 month analysis of the launch of a section aimed at New York City Hispanics by the New York Post, the answer turned out to be a combination of 'b' and 'c'. Despite the naturally occurring fluctuation of daily newspaper circulation during any given week, The New York Post's circulation numbers steadily increased and because the Tempo section appeared as a monthly insert, the Post had ample time to promote the section.

Although the content was well put-together, there rarely remained enough left in a budget to promote Tempo using local media. Further, considering that just 28% of Post readers buy it exclusively, its "'also-read' status" (1) generally means that there exists substantial obstacles to actually seeing and enjoying the section, obstacles we believe account for at least 20% of the reasons why readers just don't read the Post.

These findings don't propose to avoid launching new sections, but instead, consider the differences between your readers and subscribers. Intuitively, you'd think that if a subscriber pays for your content, they'll read it. However, as we learned in a prior report (2), the circulation "management" applied by aggressive publishers don't always mean the readers want a publication. And for a publication that's just $0.25, it's almost an unnoticeable expense on a credit card.

As shown by our data, The New York Post couldn't maintain consistent growth in its Tempo readership primarily due to deficient marketing of its core content and value proposition and secondarily, from slow innovation in their distribution efforts. (This is in lieu of new entrants amNY's and Metro's forceful penetration using armies of trained newspapermen and -woman, who hand you free copies of their dailies with a smile.) (3)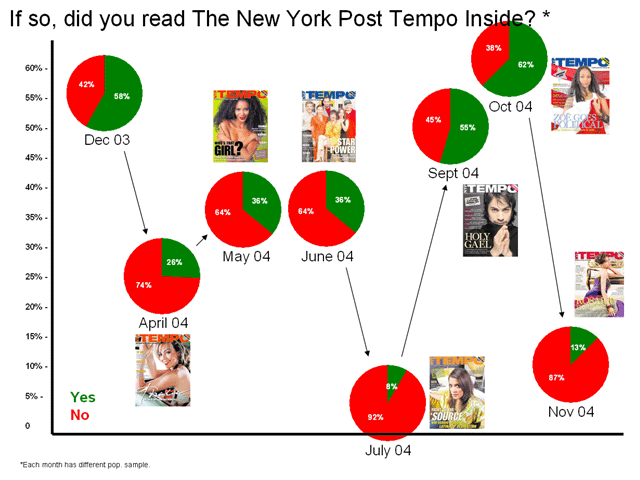 In today's world of media fragmentation, building it and awaiting for them to come simply won't work. Unlike the journalism of just 10 years ago, the economics of news gathering has changed with the advent of the internet and abundant syndication opportunities. As the Metro has successfully demonstrated, virtually every function of the publishing business can be outsourced to contributors and other sources. So the optimal business model appears to be to outsource strategically, market the heck out of your news brand, and continuously innovate your distribution. Indeed, a wrenching change from dependency on a unique editorial franchise, the "paid-circulation-as-lifeblood" model, and overreliance on advertisers instead of interested readers paying you for what your work is really worth.
We believe that a tabloid newspaper's ultimate value to its society is that it captures and informs readers of the cultural zeitgeist of the moment. Our analysis is a snapshot of just 8 days in the history of news of just one tabloid paper, and considering that news gets old fast, reader's thoughts can easily be disregarded as inconsequential. But given the nature of New York City newspaper market, a brutal market with 4 of the top 15 dailies and hundreds of other daily, weekly, and monthly publications in dozens of languages, paid and free, any misspent investment could make the difference between success and bankruptcy. And unless you're owned by a billionaire who can afford to lose money on news publishing, these insights are worth paying attention to.
Write to Al Berrios at editor@alberrios.com

Top

Footnotes

(1) The New York Post: Profitless Paper in Relentless Pursuit, BusinessWeek, Feb 21, 2005

(2) Free High-Quality Newspapers Pose Significant Threat To Established Markets

(3) sic

Top

Related alberrios.com Sections
Disclaimer: The recommendations, commentary and opinions published herein are based on public information sometimes referenced via hyperlinks. Any similarities or likeness to any ideas or commentary from any other sources not referenced is purely coincidental. al berrios & co. cannot control any results occurring from advice obtained from this publication nor any opinion(s) conveyed by any reader of this publication.

(c) 2005. All Rights Reserved. al berrios & company, inc. Published by al berrios & co. This Report may not be reproduced or redistributed in any form without written permission from al berrios & co., subject to penalty.