research

---
Analysis of Favorite Consumer Magazines June 04
By AL BERRIOS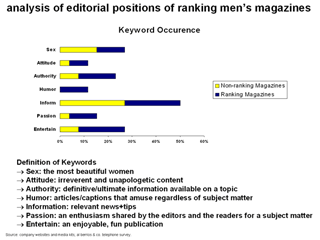 Source: al berrios & co. Analysis of Favorite Consumer Magazines June 2004



It's probably not surprising that a publication like Playboy charges 25% less than Maxim for a full-page color ad, despite having 17% higher circulation. Playboy's even 47% less expensive than Sports Illustrated, even though it delivers just 5% fewer subscribers. What is startling about all this is that in a recent al berrios & co. study of favorite consumer magazines, males consider Playboy their favorite magazine above Maxim and Sports Illustrated.

The notion of high circulation numbers equating high visibility and reach has traditionally been the key to higher advertising rates. Unfortunately, high reach seldom guarantees interest among readers. In fact, like broadcasting, it's comparable to using a shotgun instead of a rifle, meaning, media buyers are wasting money.

But what if there were a better way to invest in magazine advertising space? In a landmark analysis, we wanted to know what magazines consumers preferred and why and the results revealed increasing evidence that catering to readers, instead of advertisers, works. It works so well, that consumers spend more time and want to buy more things from publications that consider their interest above anything else.

In order to determine whether consumers' favorite magazines really were catering to their interests, we analyzed the editorial goals of ranked magazines and non-ranked and discovered significant disparities between editorial directions. Upon comparing ranking editorial goals with an equal number of non-ranking magazines, it is apparent that ranking magazines deliver and achieve more of the editorial goals that may be attributed to their success with readers.

Corroborated with the data we learned about where consumers read their favorite magazines, it continued to support our findings that magazines that truly focus on their readers experience more successful relationships with them. Because our male readers are more passionate and entertained by magazines they believe to be more authoritative than non-ranking magazines, where they read these magazines is irrelevant to 75% of them, a staggering number, given that of our entire population (females included), 59% preferred home, as one would expect.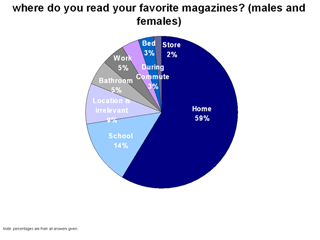 Source: al berrios & co. Analysis of Favorite Consumer Magazines June 2004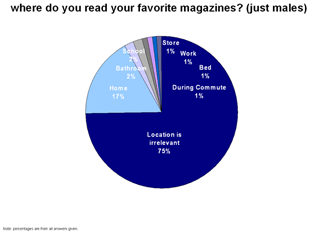 Source: al berrios & co. Analysis of Favorite Consumer Magazines June 2004
Returning to the example of Playboy, just because Playboy's reach isn't as high as Time Magazine, for example, or its content as mass appeal, it's more valuable to media buyers, since your investment into it is more utilized. Not just the Playboys, but all the magazines ranked by our males, including Sports Illustrated, The Source, Maxim and Import Tuner, function more like rifles for media investments because of the relationships they have with their readers. And best of all, comparatively speaking (with regards to magazine titles not ranked in our study), it would be a huge bargain due to the age group and household incomes reached via these magazines.
Our study does not aim to guide new launches, but rather offer an alternative view in how consumers perceive what's currently out in the marketplace and why. It is our goal for the reader to use our research as a guide in context to optimally evaluate future strategic investments in media.

Write to Al Berrios at editor@alberrios.com


Related al berrios & co. Articles

> "Measuring Media Investments Without Measuring Reach - Media Becomes Interesting Again"

Top


Related alberrios.com Sections

> Our latest thinking on the media industry

> Our coverage of broadcasting, publishing, entertainment, new media, and wireless/telecom businesses

> Our research on the media industry

> Our latest thinking on consumer media habits

> Read about our media industry-related events

> Our analyses of the latest thinking in the media industry

> Learn more about the media industry

> Academic research on media

> News about the media industry

Disclaimer: The recommendations, commentary and opinions published herein are based on public information sometimes referenced via hyperlinks. Any similarities or likeness to any ideas or commentary from any other sources not referenced is purely coincidental. al berrios & co. cannot control any results occurring from advice obtained from this publication nor any opinion(s) conveyed by any reader of this publication.

(c) 2001-2005. All Rights Reserved. al berrios & company, inc. Published by al berrios & co. This Report may not be reproduced or redistributed in any form without written permission from al berrios & co., subject to penalty.