research

---
al berrios & co. August 2004 Study on Consumers' Thoughts on Dining Out - Managing Director's Comments

Not surprisingly, McDonald's, Burger King, and Wendy's ranked the top three as consumer's favorites in our survey. Our figures also reflect current industry occurrences - Burger King and Wendy's tied for second place, which would have been unthinkable if BK, with way more units would have been managed as effectively as Wendy's.

Few management jobs are tougher than that of a food service industry manager. Besides managing fluctuating costs of raw materials, vendor relationships, and of course, unpredictable customer trends, they've got to do it all with a staff that turns over 113% annually (!), on average. But don't pity restaurateurs - our study reveals that a whopping 92% of diners feel that customers service is "good, great, and excellent", 94% feel their favorite restaurants are easy to get to, and 53% feel that prices are "affordable".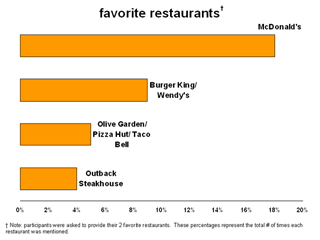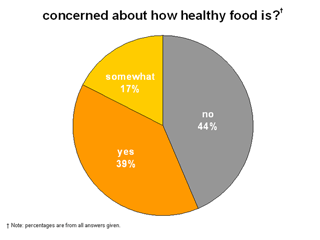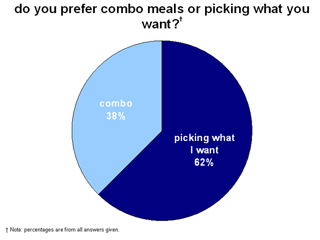 Such news is compounded by the near-end of the health fad. 44% of consumers have told us that they are not concerned about how healthy the food is at their favorite restaurants, compared to 39% who are. Although we do not have internal historical figures to compare, anecdotes about failing health-food business models (Forbes magazine recently profiled such a firm), and the rationalizing of health food selections (and food service costs) are indicators that consumers aren't about to make it a full-fledged cultural change.
Finally, I'd like to speculate on a trend that emerged when asked whether consumers prefer combo selections or picking whatever they want from restaurant menus. 62% of consumers have told us that they prefer choosing any selection of items they want from menus as opposed to 38% who prefer choosing combo selections. Although offering individual "value" items has differentiated Wendy's, but almost killed McDonalds, casual dining has rarely packaged and offered their menu as combos. Perhaps it's time for a re-evaluation of how menus are presented on both sides.
The goal of this study was to present some of the freshest behavioral insights currently available into the restaurant consumer, as well as continue to test our innovative research methodology. We hope you agree that not only is our methodology as effective as any traditional approach, but our analysis delivers some new ideas and ways to think about to your business.

Top


Related al berrios & co. articles

- "Strategies for Successful Casual Dining Restaurants"

- "Cooking Less"

Top

Related alberrios.com Sections

- Our latest thinking on the restaurant industry

- Our coverage of retail brands

- Our research on the retail industry

- Our latest thinking on consumer perceptions

- Our analyses of the latest thinking in the retail industry

- Learn more about the retail + restaurant industries

- Consumer advocacy

- News about the retail industry

Top
Disclaimer: The recommendations, commentary and opinions published herein are based on public information sometimes referenced via hyperlinks. Any similarities or likeness to any ideas or commentary from any other sources not referenced is purely coincidental. al berrios & co. cannot control any results occurring from advice obtained from this publication nor any opinion(s) conveyed by any reader of this publication.

al berrios & co. does and seeks to do business with companies covered in its research reports and studies. As a result, the reader should be aware that the firm may have a conflict of interest that could affect the objectivity of this report or study. Readers should consider this report or study as only a single factor in making any strategic or investment decisions.
(c) 2001-2005. All Rights Reserved. al berrios & company, inc. Published by al berrios & co. This Report may not be reproduced or redistributed in any form without written permission from al berrios & co., subject to penalty.