management

---
What a Successful Casual Dining Restaurant Looks Like
By AL BERRIOS

There's an International House of Pancakes in my backyard. I'm on first name basis with every waitress there. They don't even give me the menu anymore and bring me my regular drink upon seating me. (Sometimes, they'll even tell me to seat myself.) This IHOP is unusual in its industry because everyone thinks of themselves as family. They hang out after work, give each other rides back home, and even more interesting, effortlessly chat with customers. This can't be training. (Maybe it is, because unfortunately, it pressures me into being a big tipper.) In an industry that regularly replaces its entire staff-per-restaurant 1.3 times annually (1), this is indeed a small miracle of human nature. And it also keeps me spending on the awful food despite all the surrounding alternatives.

The question of whether or not the industry is saturated is not a question when the service is exceptional. With so much competition, can a restaurant not afford to kiss my @ss? A recent al berrios & co. study on Consumers' Thoughts on Dining Out revealed that with so many locations, 94% of consumers feel that their favorite restaurant is easy to get to. And even though turnover is high, customers service levels are at an all time high and average number of years visiting is 2.7 (2).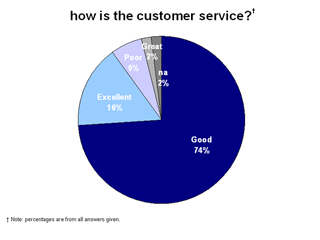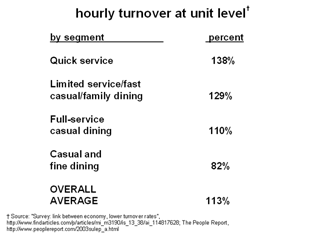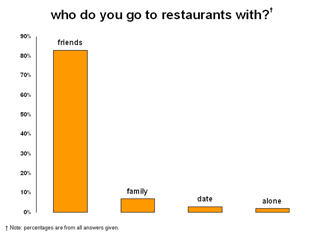 It appears that current employee turnover levels are ok. Any higher, and the likelihood that your employees will come to like each other enough to like customers, too, will decrease.

But when employee turnover gets lower, much like my IHOP, and the likelihood that they'll like each other increases, the likelihood of turning your customers into repeat customers or "regulars" is assured (along with your financial success).

The key to customer retention in the restaurant industry is clearly developing a recruitment and retention program for employees that foster an environment conducive to exceptional customer service.
To support natural friendliness as the most powerful strategic driver of internal restaurant growth, consider that according to our study, 69% of consumers were introduced to their favorite restaurant by a friend; 90% go with friends or family. When your customers arrive at your restaurants, they're in a naturally friendly state of mind. Imagine that shattered by an anti-social, introverted employee, who just wants to leave?

Granted, there are difficulties in finding such exceptional, naturally friendly people and supporting so many of them on such tight margins, however, it is not impossible. A greater challenge is instilling natural friendliness in your current workforce. But at your rate of turnover, effects of your changes should be painless and noticeably fast.

The greatest challenge will be in managing this shift in your customer-retention strategy among franchisees. But by presenting them with the compelling argument that groups of two-or-more people spend an average of 14% more on food-away-from-home than the national average (3), it's ultimately in franchisees best interest to alter their mindset to accommodate and instigate the social interaction for which their restaurants are such an apparent draw.
Write to Al Berrios at editor@alberrios.com

Top

Footnotes

(1) 36,500,000 workers divided by 878,000 restaurants in 2003, multiplied by 129% turnover. Source: U.S. Department of Labor, Bureau of Labor Statistics, Bureau of Labor Statistics Data; National Restaurant Association
(2) al berrios & co. analysis
(3) al berrios & co. August 2004 Study on Consumers' Thoughts on Dining Out
Top

Related al berrios & co. articles

- "al berrios & co. August 2004 Study on Consumers' Thoughts on Dining Out"

- "Cooking Less"

Top

Related alberrios.com Sections

- Our latest thinking on the restaurant industry

- Our coverage of retail brands

- Our research on the retail industry

- Our latest thinking on consumer perceptions

- Our analyses of the latest thinking in the retail industry

- Learn more about the retail + restaurant industries

- Consumer advocacy

- News about the retail industry

Top
Disclaimer: The recommendations, commentary and opinions published herein are based on public information sometimes referenced via hyperlinks. Any similarities or likeness to any ideas or commentary from any other sources not referenced is purely coincidental. al berrios & co. cannot control any results occurring from advice obtained from this publication nor any opinion(s) conveyed by any reader of this publication.

al berrios & co. does and seeks to do business with companies covered in its research reports and studies. As a result, the reader should be aware that the firm may have a conflict of interest that could affect the objectivity of this report or study. Readers should consider this report or study as only a single factor in making any strategic or investment decisions.
(c) 2001-2005. All Rights Reserved. al berrios & company, inc. Published by al berrios & co. This Report may not be reproduced or redistributed in any form without written permission from al berrios & co., subject to penalty.