management

---
The Impacts on Your Business of Increasing the Minimum Wage, Withholding Medical Benefits, and Implementing a Two-Tier Compensation
By AL BERRIOS

My first job in college was working for Blockbuster Video. Having worked at Suncoast Motion Picture Company (a movie retailer and subsidiary of Musicland, today owned by BestBuy), I felt my experience deserved above-market rates. I was already expecting to be called for an interview; it was just a matter of the size of their offer.

When the store manager, Joe, called, he mentioned that I had the right qualifications and he'd like to hire me immediately. (What, you thought this was a corporate gig?) He offered $5.20 an hour, above minimum wage, but not the rate I wanted to settle for. I asked for more, considering I was already intimately familiar with helping customers select movies. He agreed and offered $5.30. I was shocked that I was making such progress, and pushed the envelope a little further. He offered $5.35 and I accepted, supremely happy at my victorious negotiations.

And this is the experience of most entry-level associates.

As an entry-level customer service representative, I wasn't offered medical benefits, stock options, nor paid time off and I was grateful for it. I was also part of a two-tier system where earlier entry-levels were started at substantially higher rates. When I learned of this, I considered it extremely unfair, of course, but did my job responsibly nonetheless. (I later appreciated not being locked into the job to avoid surrendering my pay, which many others would do.)

I'm not going to kid you, I had some of the best times working at that store. The job was fun (I got to watch more movies than humanly possible); I loved the crew (I made some great friends there); and I was an assistant manager, so I had tons of leeway - customers loved me because of all the discounts they thought they haggled from me.

Despite being a blue-collar job with plenty of opportunities for injuries and other stress-related maladies, I don't recall a single incident that required a visit to the doctor. Turns out, I'm not the only one; in a new study published today by al berrios & co., when asked whether workers across all industries use the medical benefits provided by their employers, 55% said "No". This is astounding considering companies continue to voluntarily pay for coverage to all employees, whether or not they use it. But this finding certainly does explain the increasing popularity of health-savings accounts, "an investment account or retirement account from which you can withdraw money tax-free for medical care. Otherwise, the money accumulates with tax-free interest until retirement, when you can withdraw for any purpose and pay normal income taxes" (1). That ideally allows employees to manage their medical expenditures more realistically.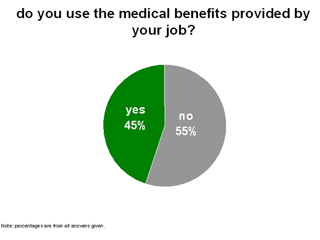 Focusing more on this number, it also reveals a disturbing trend affecting skyrocketing healthcare costs: 45% of the employees (and their families) who do use their employers' medical benefits are using too much. Unfortunately, our entitlement culture presents a serious obstacle to any employer that dares tamper with medical benefits that have been part of the working culture for any period of time.
Here are three dilemmas facing blue-collar employers today: a politically popular minimum-wage increase to $7.15; an attempt to curtail inflated wages by offering newer workers substantially less than more senior workers received when they first started; and ludicrous healthcare coverage costs that have exceeded double digit increases for a third year in a row. So what should employers who want to mitigate these costs do?
Increasing Minimum Wage
Based on my experience above, I can definitely say that an increase in the minimum wage will attract an entirely new pool of job applicants. It will no longer be just for high school kids and part-timers. At $7.15 an hour, competition for positions will increase, along with willingness to perform jobs given without additional incentives (like medical benefits or paid-time off).
Employers should be prepared to trim headcount, while simultaneously reduce number of associates per shift. This will naturally decrease supply of jobs that will become highly demanded, adding to worker ambition.
But more strategically, employers should increase usage of part-time workers assigned to do more (or better yet, less [2]) tasks.
Two-Tier Compensation
Perceived as unfair to newer workers, what's not so obvious is that fairness will even out in the long-term. With turnover above average for most front-line associates, it's only a matter of time before workers who started on the original compensation tier move on and newer workers on the new compensation tier bring the order of compensation to a new standard. Remember, I may not have been happy making the new tier, but it didn't matter as much once others in the company were on my tier. Further, our society has made it a taboo (thanks to corporate policies) to discuss our wages with co-workers. More often than not, critics, do not acknowledge that workers often don't know what their co-workers make and do not acknowledge whether or not they're being treated fairly. And once they know, they often don't care because they don't plan on remaining at that pay level for the long-term.
Healthcare Coverage
Any employer that offers medical benefits should also be prepared to shift more of the burden of healthcare coverage to the employee as a minimum wage increases. It costs an average of $3 additional dollars per hour for a small business of about 100 or less employees to offer health care (3). If minimum wage were raised by $2, employers may either have to adjust their coverage accordingly or do away with it altogether.
Contrary to popular beliefs, increasing costs of doing labor and subsequent strategies to mitigate costs isn't a factor in a culture's morale. In the study, employees revealed genuine job satisfaction, with 23% loving their jobs, 25% liking it, and 15% thinking their jobs were alright. And although 18% claimed to hate their jobs, none mentioned lack of benefits or poor benefits as a reason.
Write to Al Berrios at editor@alberrios.com
2 See related article, "Employers Are Overworking and Not Appreciating Their Workers"
3 [subscription required] "Health-Care Costs For Companies, Employees Surge"

Top

Related alberrios.com sections

- HR Management analyses + recommendations

Top
Disclaimer: The recommendations, commentary and opinions published herein are based on public information sometimes referenced via hyperlinks. Any similarities or likeness to any ideas or commentary from any other sources not referenced is purely coincidental. al berrios & co. cannot control any results occurring from advice obtained from this publication nor any opinion(s) conveyed by any reader of this publication.

(c) 2004. All Rights Reserved. al berrios & company, inc. Published by al berrios & co. This Report may not be reproduced or redistributed in any form without written permission from al berrios & co., subject to penalty.