[2] EXECUTIVE LIFE
***********************************
How The Event, "How to Spend a Hundred Million Dollars Reaching Consumers and Other Marketing Not in Textbooks" Happened
By Al Berrios

Skip to Section:
> Epiphany of a Small Business
> The Venue, The Promotions
> Finale


The Conference Board's annual Corporate Image Conference ("2003 Corporate Image Conference: Going Beyond the Expected") waaay back in January was a fairly interesting affair. I gave it four pluses. But my strongest memory of it was meeting Peter - one of the speakers. A newbie a Samsung, he was probably asked to speak because of his title, not ability. After hearing his presentation, Peter was clearly meant for a grander venue than one little workshop in a low-ceiling room at the conference hotel.
After his presentation, the usual networking-thon commenced, almost as though what Peter had to say didn't seem to matter. I immediately bolted for Peter before anyone else realized the error they'd made in not networking with this man, for he clearly possessed something worth getting to know. As I later discovered, it's ferocity more commonly found in CEOs, not marketers.
For a guy with the title of Senior Vice President of Strategic Marketing, responsible for six divisions comprising Samsung Electronics, he was a pretty approachable guy. He's clearly busy and suffered fools lightly, yet he was always pleasant and eager to meet everyone.
With this in mind, I asked for his card, gave him mine (which he'd later loose), and bid him a good day. For me, attending that conference was finally worth it. For him, I'm sure he would have never remembered me again if it weren't for an epiphany I had.
Who organizes the majority of the conferences and trade events we attend? Marketing firms on behalf of clients, trade associations or professional service firms, such as consulting firms. "So, Al," I asked myself, "why aren't you doing any of these?!" It was a question that had been laying in the back of my mind since the successful panels I organized in my class just weeks before and had been getting louder and louder. I hadn't done anything like this conference I had just attended, but was positive I could (thanks to my events marketing experience, and many observations from my subsequent event attendance schedule).
A couple of weeks later, I emailed Peter asking him to participate in a panel in my class. Surprisingly, he enthusiastically accepted for a date in November. Great, now I needed a venue and a theme. From experience, I can tell you that jargonny titles only attract the biggest of us geeks. However, the tendency to give an event a jargonny title is overpowering in our effort to legitimize our events and imbue it with credibility usually reserved for the biggest, most popular draws.
Sure enough, the original theme was "Consumer Strategies: A Discussion on Understanding Consumer Behavior's Role in Developing Corporate Strategies" or something like that to explain to executives exactly how I can help them. However, since I'm not Jack Welch or Rudy Giuliani, I didn't think I could get anyone interested with a theme this knee-wobblingly, snore-resistingly boring. So, thinking about what I wanted to do and what would attract genuine interest, the title "How to Spend $100 Million Dollars Reaching Consumers" evolved. Everyone likes to spend and few of us, if ever, get to spend that much cash, so it made sense. The part "…and Other Marketing Not in Textbooks" I felt also important due to the venue.
At this time, I wasn't sure if I would be given a class for the Fall semester, so I decided to reserve a large room at Baruch College's brand-spankin' new facilities before I was ejected from the system. Lucky for me, municipal bureaucracy works slow, so I figured I'd wait until at least the summer to worry about any particulars.
The first week of summer (May) I reserved a huge room. During the summer, I had my designer develop the creative theme for the event and I started telling friends and you about this special event, (a.k.a. teaser marketing.) From experience, I realized that teaser marketing works well for two reasons: you've got $100 million to blow on a really big launch or plans aren't set yet and you don't want to say something which you might have to take back later on. (I don't have the millions.) Although things were moving along, I still wasn't sure whether or not I wanted to get other speakers, what format the event was going to take (i.e. panel, speeches), or if I was going to get sponsors. But, what's the point worrying about the little details, right? Life goes on and when I get to that bridge, I'll cross it.
In the meantime, I attempted to get the rest of Baruch more involved by appealing for other faculty for support, the school's public affairs people for support, and most importantly, students for support. One of the first things I learned when doing events is make friends with support staff because they control everything. So, from the get go, I made sure to know security, mailroom folks, and department assistants on first name basis, because when I really needed it, they'd be the ones to help promote within departments, hold my packages safely, and make sure my guests were admitted without problems. (It helped that as part of the faculty, I automatically got special treatment, but no one likes to treat jerks with care, so…) Slowly, but surely (I started in September), support trickled down.
By October, it became evident that I wasn't going to book another big draw in time for November, so I started reaching out to other faculty members who may know someone. When that didn't pan out, I settled on the format - a keynote address and interview. A favorite of event organizers, this format hides the fact you couldn't get anyone else (because of short notice or laziness), and because of the wording, lends credibility to the whole affair. I phoned Peter to make sure he was OK with this, and he said, "Perfect!" and promised to blow our socks off. (See Event).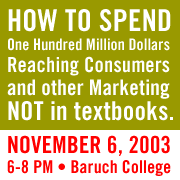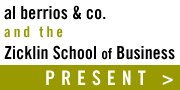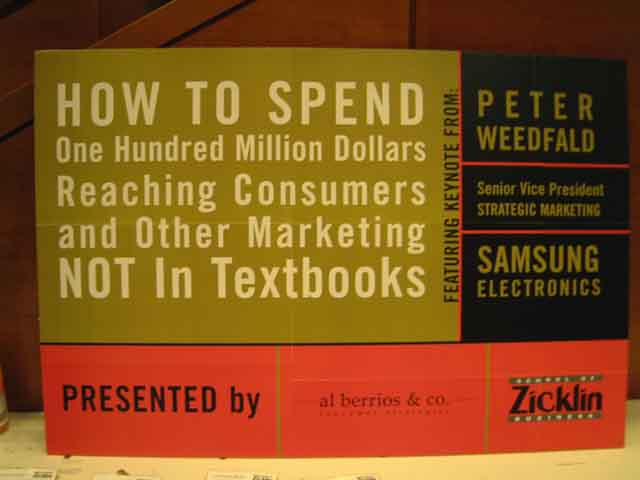 I got my designers to bang out the rest of the creative firming up the event details and started promoting it on www.alberrios.com, the Baruch campus, and of course, to all of you. Catering, reserved for the last week, was paid for by my department. Badges, reserved for the night before, were prepared lovingly by my wife. Beverages, reserved for the morning of, were graciously contributed by Energy Brands, makers of Vitamin Water. (Hmm, hmm, delicious!) And most interestingly, a "welcome-honored-speaker," pop-in from the dean of the Zicklin School of Business, Dean John Elliott, was reserved for the afternoon of, (with a persistent stream of requests since May from yours truly, of course.)
With the help of my most amazing students, (who volunteered to double as photographers, escorts to the conference room, registration managers, and audience fillers, knowing full well that they wouldn't get extra credit for their contribution), security guys, Rosalyn in the marketing department, other faculty and their students, and mailroom guys (who doubled as my temporary office assistants for the day while things were getting ready), the event went off without a hitch. A little under 100 people arrived to hear Peter speak for about an hour, despite the inclement weather and severe traffic congestion. Even the college newspaper showed up, surpassing my expectations about the relevance of this event to the community outside the marketing department. At the conclusion, the feedback I received was phenomenal. Peter blew everyone's minds wide open, just as he promised, and forever changed what we consider to be an effective way of spending one hundred millions bucks reaching consumers and other marketing not in textbooks.


Top


Disclaimer: The recommendations, commentary and opinions published herein are based on public information sometimes referenced via hyperlinks. Any similarities or likeness to any ideas or commentary from any other sources not referenced is purely coincidental. al berrios & co. cannot control any results occurring from advice obtained from this publication nor any opinion(s) conveyed by any reader of this publication.

(c) 2001-2005. All Rights Reserved. al berrios & company, inc. Published by al berrios & co. This Report may not be reproduced or redistributed in any form without written permission from al berrios & co., subject to penalty.