media

---
Competing in an Online World With No Barriers To Entry
By AL BERRIOS



(Wordcount: 854) To better understand the dynamics of the online advertising business, our firm decided in 2002 to staple together a "network" of online publishers. To capitalize on the Hispanic "craze", the core of the network consisted of independent publishers with very niche audiences; at its peak, this network reached over 690,000 unique visitors per month. But the marketed value was in the sort of visitors: the largest number of "U.S.-based, English-dominant, Hispanics" online.

As far as we could determine, we followed all of the supposed "musts" in launching our network: we picked a niche and promoted ours as the best; we launched at lower rates per CPM, since our business was commission only and non-exclusive; we standardized metrics methodically across all sites to be able to deliver consistent results to our clients, without the expense or headaches of pricey technology; and we went right to the media buyers.

While cajoling various publishers to put this network together, we also harvested hundreds of names of media buyers. So when we put the finishing touches on our media kits, we mailed them out to all of these prospects at great expense. Our response was abysmal. There were two inquiries, and no buyers within a span of 6 months. It lead some publishers in our network to openly criticize our efforts and at least one to renege on its contractual pledge to be part of our network. Supporters lamented that it was too soon for this sort of ground-breaking niche network. We later learned that some media buyers rightly wanted to see more longevity and case studies before committing. This was an obvious response to a veritable deluge of "networks" that seemed to spring up and die off by the minute. (A more recent analysis our firm conducted on the industry reflects the true nature of the marketplace: zero barriers to entry really mean insurmountable challenges in actually establishing a business for the long-term).

During a consulting engagement for a large marketer, we concluded that buyers potentially avoided presenting alternatives to their clients, and possibly worse for the marketer's ultimate return on investment, when buyers did present alternatives, clients were too "busy" with their established relationships, where their "meager" low-million-dollar budgets usually went, to investigate new opportunities themselves. In response, publishers and networks briefly found themselves skipping buyers to go directly to advertisers. But the overwhelming attention quickly made advertisers miss their gatekeeping media buyers, who in turn, discreetly retaliated against publishers' violation of industry protocol by making it even harder for new networks and sites to start and flourish.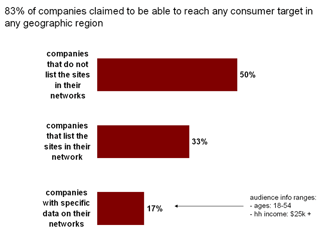 A subsequent (and periodic) re-alignment of buyers brought in a new crop of buyers with less creative flexibility, demanding higher accountability from everybody. This was immediately followed by an explosion of online innovation (still going on now) which opened up the floodgates to every Tom, Dick and Blogger with Adobe Photoshop and Macromedia Dreamweaver. Too quickly to realistically assess, the official body for online publishers, the Interactive Advertising Bureau, is still trying to catch up with suggestions on how to standardize all this innovation. So, we're right back where we started from, but with client input, as always when it comes to media, preferring the Big 4 (MSN, Yahoo, AOL, Google); the internet today is no longer a diverse pool of potentially successful visionaries, all equal in their ambition and high-quality services, but a bottom-heavy pool of greedy gold prospectors and hucksters with little to no other mission than to make a quick buck peddling junk - mail and ads.
The proof was obvious during an analysis of online media ad reps we performed just last year in Feb 05. With no incentive to invest in their networks' ability to deliver results other than pure reach, reps generally avoided disclosing in-depth information about their networks: astonishingly, 50% don't list any of the sites in their networks, while just 79% provided info on their ad rates. And yet, a not-so-modest 83% of this same group claimed to be able to reach anyone anywhere anytime!
The Big 4 have avoided being relegated to the same category of commodity that their less ambitious cousins have achieved. In fact, if buyers so choose to, they could exercise enormous pricing power over these bottom-feeders, despite what we read in the trades about the Big 4's pricing power. Consequently, the answer to success in this environment is simple: either launch immediately as big as a Big 4 (a la News Interactive), buy up your competitors (a la Google. Note: There is a huge risk of having companies extort the buyer because everyone knows the buyer is buying), or more practically,
a) position your business for long-term viability, where you're strategically committing resources to client- AND publisher- services,
b) you're selectively growing your network and publicizing its successes, and
c) educating both buyers and advertisers on how easy it is to advertise on your network and the anticipated results of such an investment.
It is strongly suggested you do not start with a big bang but build incrementally, making sure the associated costs of your operations aren't bigger than your sales. In two words: don't compete.

---
Al Berrios is Managing Director of al berrios & co., an innovative strategy consulting firm advising leaders on the impact of human behavior on their strategies and on how to change their organizations to address the behavior. Write to Consumer Strategies Report at editor@alberrios.com.

Related Report

- Internet Advertising is Hot Again, But it Can Be Cooled



(c) 2005. al berrios & company, inc.