TRADE EVENT
***********************************
Bear Stearns Advertising/Marketing Virtual Summit (+ + +)
By Al Berrios
Why do all media industry representatives claim that their medium is better than the alternatives? At this year's Bear Stearns Advertising/Marketing Virtual Summit held on Friday, Jan 23, over the phone and Bear Stearns website, this was the case, and it got me thinking about when media companies will finally start thinking of themselves as a part of the media pie, or better yet, as a small portion of their audience's media consumption. I know that they're supposed to "sex" themselves up for Wall Street, but honestly, they're distorting the whole picture.
Skip to Section:
> Television
> Radio
> Out of Home
> Newspapers
> Internet


According to the Television Advertising Bureau, over 75% of consumers consider television their primary source of news. However, according to a recent al berrios & co. NY Metro Newspaper Consumer Study, TV accounts for just 35%, with newspapers, the internet, radio and magazines accounting for the rest. The TVB doesn't even consider magazines a source of news.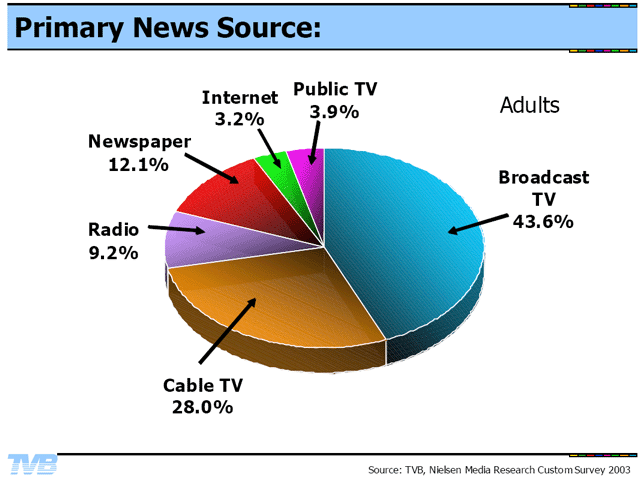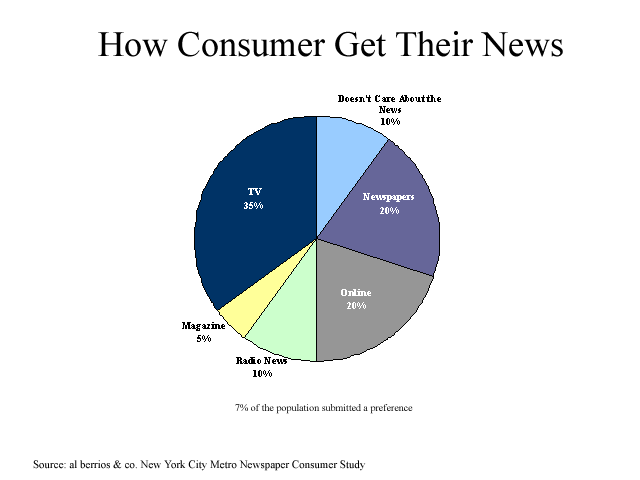 Disturbingly, our study also revealed that about 10% of consumers don't care about the news at all (1).

Top


There doesn't seem to be anything interesting going on in radio. The audience is clearly decreasing, but at a pace so slow, it seems to have induced strategic inertia among the industry. Some time ago, I argued that consolidation in radio is good. ("Radio Consolidation Is Good"). Well, after spending the last 2 months listening to different radio stations in the New York City market, I support radio consolidation even more. Why? Because too much competition means you listen to the same rotation of 10 songs every 2 hours on every station. It's so bad, I've actually tuned out of the big stations and into the smaller indies just to get something different, even if I'm not partial to the genre.
I'm not the only one. Which is why satellite radio is such a nightmare to the industry.
Top

Out of Home
The most positive things OOH claimed this year that car traffic has gotten really bad (forcing increased time in front of OOH ads) and folks just are spending more time outside than at home. Wow…
However, there are two very interesting trends that are currently going on: The digitization of OOH and the modification of zoning laws to accommodate advertisers (to help attract tourism and ultimately boost local economies).
With regards to digitization, looking at a billboard is turning more and more into an experience at the movies. You can watch an entire 30-sec ad on billboards and transit ads, which for the advertiser effectively amortizes the cost of producing the ad, and ultimately hopes to save money on producing static ads for outdoor use. The value, however, comes in the consumer's experience. They see the same ad on TV on their way to work, too, improving recall and effectiveness of the ad.
Although not widely available, the benefits clearly outweigh the negatives.
With regards to zoning law changes, urban environments are constantly "revitalizing", requiring their commercial landlords to fork over hundreds of thousands periodically to repair or clean up their frontscapes. These repairs require scaffolding, which, when made large enough, become media for advertisers that recognize its effectiveness.
New York City is a prime example of a city taking advantage of its population by requiring these regular repairs, which naturally attract OOH media companies, and more recently, requiring building owners to design their frontscapes on select major NYC thoroughfares to accommodate digital billboards or awning.
If these changes prove successful in making everyone money and giving advertisers a large palette of OOH choices, then you can most assuredly expect other major metropolitans to do the same.
Publishing in general has only one problem - too much pressure on their circulation. Magazines in particular have been having issues in qualifying their circulation numbers largely due to their marketing approaches (telemarketing, automatic renewals, and newsstand skewing issues).
I thought about this and can only come up with one conclusion - the problem isn't the numbers, but a consolidated distribution system. From 100 distributors per city 20 years ago, we're down to 5 or 6 national distributors, and as little as 1 distributor per city in some cities. National distribution helped once upon a time, but has ultimately hurt advertisers by stagnating an industry that still relies on ripping the front page of each individual copy to reimburse retailers for unsold copies.
While on the subject of newspapers, let me say that the state of newspaper advertising layout in general also needs change. Often I am left struggling to find the news story buried in the ads, and in my case, this diminishes my interest in the publication. A consistent layout and improved separation of news and ads would do wonders for the look, particularly in an age overwhelmed by information, that begs for clarify and filters from all their sources. ("Analysis on the Simplification of Consumer Lifestyles & Experiences").
The quiet monster. Search is consolidating. (Yahoo bought Overture and Inktomi and when Google IPOs, they're buying the rest.) Why is this a big deal? Because consumers need filters online.
As search consolidates, so will advertising. Because there simply is no argument better than reaching consumers when they're searching for your product. Sure, emails are still a big part of the pie, but thanks to spam, and new CAN-SPAM regulations, emails are a increasingly a difficult sell.
As mentioned in our last report, the other big thing online is social networks ("The National Retail Federation's Big Show 2004 (+ + + + +)"). Originally for the purpose of finding "love" online, social network sites have become the English taverns of the 1700s, where everything you need in life can come from. As investors catch on, they're pouring money in.
Overall, the I enjoyed the flexibility of the conference because it allowed me to work from my desk while still getting the information I needed, but overall, I think it merits just three pluses (+ + +) until they can find industry representatives with something new to say.
RELATED AL BERRIOS & CO. ARTICLES:
> Media + Strategy
Footnotes
-------------
(1) Our population size was 290, of which 7% mentioned a preferred source of news.
Disclaimer: The recommendations, commentary and opinions published herein are based on public information sometimes referenced via hyperlinks. Any similarities or likeness to any ideas or commentary from any other sources not referenced is purely coincidental. al berrios & co. cannot control any results occurring from advice obtained from this publication nor any opinion(s) conveyed by any reader of this publication.

(c) 2001-2005. All Rights Reserved. al berrios & company, inc. Published by al berrios & co. This Report may not be reproduced or redistributed in any form without written permission from al berrios & co., subject to penalty.