organization
---
Selling Your Widget Better: The Complexity of Value-Recognition of Economic Roles
By AL BERRIOS




Chart 1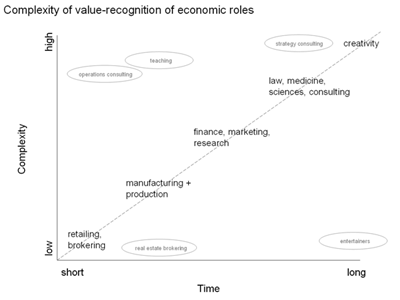 Source: al berrios & company; based on analysis of recollections of hundreds of undocumented interviews and interactions with various types of business professionals in New York City.
(Wordcount: 886, Pages: 3) The optimist sees obstacles as learning opportunities. They, however, fail to recognize that like any learning experience, it takes time to fully grasp its meaning. To wit, below is a graph that attempts to comprehend why it may take longer than expected to overcome certain obstacles in a sales process, entrepreneurial venture, or domestic dispute:
It's evident that making a decent living is within the grasp of the average person with the capacity to blink. It's also evident that, upon a population's mastery of the full spectrum of opportunity within any economic segment, no role can truly remain un-outsource-able. So it continues to perplex even the least inquisitive intellect why it's so hard to find a job they enjoy, why it's no fun to be in sales, and why there isn't a place in our economy for them. But the rest of us understand that life is a sales process, and if you can sell, you'll find a great job. Enjoyment comes from measured achievement at that role, which always takes time. In lieu of immediate gratification, many will opt to remain unsatisfied and ultimately expendable.
Great, You're a Salesman, Now What?
Too often, sales tactics are hurriedly tweaked or changed to address a deficient sales "style" or approach; to address a lack of customer demand or motivation in the sales team; or to address a failure to communicate every product attribute, when, in fact, poor sales may merely lie in addressing a target group that is, shall we say, ignorant of the obvious value and even necessity of your brand.
That being the case, salesmen (and women) should tailor their strategies to address not only their perspective of the execution, but the buyer's as well. Poor sales may not have anything to do with your ability to sell, but rather the lack of comprehension on the buyer. Aware of this, management must continuously re-assess how far along the complexity graph their brand lies and whether or not it's part of their strategic goal to remain in that position vs. anywhere else on the graph.
Selling Small
At an event hosted by the New York Enterprise Report last November, I can recall the panelists spending an inordinate amount of time focusing on the benefits of selling online, selling on the phone and face to face, and making it all make sense using CRM software. Although the panel of three effectively covered the entire spectrum of selling (a well thought-out selection of panelists), it probably did a disservice to the various entrepreneurs (the NY Report's audience) present that day because it neglected to elaborate that there suggestions wouldn't work for every type of business until they understood their own customers better. It had the feel of a long commercial for the panelists, the sponsors (Aetna and local news radio station 1010WINS), and the NY Report, and easily accommodated itself in the annals of commonly known and oft-regurgitated compendium of sales anecdotes and approaches (meriting just two "+ +" pluses in our grading scale.)
Selling Big
Here's an interesting fact: between 3-to-20% of a company's sales are spent on scientific research and development (1). Another consulting firm has shown that spending more money on researching things like innovation doesn't really make much of a relative difference on the company's long-term performance (2). And here's the most shocking of all: despite the innumerable volumes written by waves of "experts" based on their personal accounts of successfully selling everything from vacuum cleaners to consulting services, there are has been no methodical research done on why sales is hard and what an organization should do about it. Organizations are left engaging coaches, trainers, and motivational speakers in an effort to juice up sales - thought to be easy enough to let any joker with a head on his shoulders do it - instead of trying to understand the complexity of their sales process in the minds of their target buyers and modifying their approach accordingly.
The Bottom Line
First consider that your unbelievably simple to use vacuum cleaner may actually be an incomprehensible high-frequency-containing, cylindrical-force-powered, atom-splitting super-gadget to the average customer. This is why, as you know, that you sell better when the salesperson is well-trained and passionate about their knowledge. You also know that the greater the investment in time it takes to comprehend a complex brand, the more addicted and loyal a buyer will become to that brand (i.e. NYTimes crosswords). But the challenge, of course, is getting that customer to take time away from doing anything else to spend with your brand. So, consider the not-so-obvious: with every product (short of commodities), restructure the way you train and compensate your sales personnel so it's clear to them (and you) that realizing value from their particular sales process isn't based on a universal and uniform standard of how to sell that can be learned through osmosis, trial and error, or rowdy gospels from professionally cheery speakers, but instead involves your recognition of the real intellectual and interpersonal challenges involved in selling your widget to a wide audience and that it's OK and probably wiser to re-invent the proverbial wheel in order to move your product/service much more effectively. And don't worry, your shareholders won't mind waiting for their returns as long as you sell to them using this process, too.
(1) al berrios & co. analysis
(2) No Relationship Between RDSpending and Sales Growth, Earnings, or Shareholder Returns, (search terms used on Google: percentage of sales of American companies invested in research and development)

---
Al Berrios is Managing Director of al berrios & co., an innovative strategy consulting firm advising leaders on the impact of human behavior on their strategies and on how to change their organizations to address the behavior. Write to Consumer Strategies Report at editor @ alberrios.com.