trade events
---
Retailers Are Treated Like Idiots Because They Act Like It: The National Retail Federation's Big Show
By AL BERRIOS




NRF Big Show 2005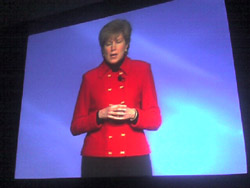 NRF Big Show 2006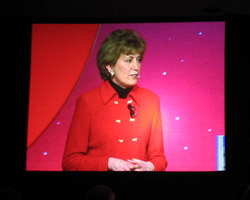 IBM's professional dance troupe

Dr. Rapaille autographing his book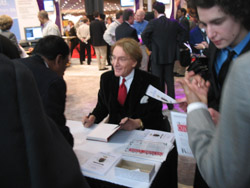 Doblin president, Larry Keely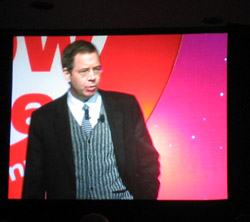 (Wordcount: 616; Pages: 3) It was disappointing to have so much of that same ol' fake excitement at this year's National Retail Federation's Big Show, the industry group's big annual conference at Javits in New York City. The weather was bitterly cold, again. The sponsoring consultants offered the same advice with new studies labeling stuff you already know with flashier names. And most disturbing was the NRF's sleep-inducing president, Tracy Mullin's, familiar ensemble (see photos). In fact, the only worthwhile aspect of this year's conference, and truly, it was an epiphany about the retail sector, was how it's regarded as a bunch of infants to be herded, reprimanded, and entertained with uninspiring lectures and caffeinated dance troupes pretending to be the happy shoppers in your stores (see photos).

Two of consulting's most celebrated speakers, psychologist Dr. G. Clotaire Rapaille and innovation consultant Larry Keeley, both closed their lectures with calls to action to the sector to not take for granted their respectable influence over the hearts and minds (and wallets) of the societies they do business in and to make genuine efforts to make the world a better place. Even Dr. Rapaille, who I greatly anticipated after the mind-blowing presentation he gave at last year's event (

1), was also uncharacteristically bland. Other firms, which of course included regulars IBM, Deloitte, Kurt Salmon and Adjoined (recently acquired by Kanbay) all did a disservice to the sector by presenting research and solutions that retailers have already implemented, are currently implementing, or wouldn't dream of implementing. Of course, the sector prefers things that are practical, easy to digest, and yield immediate results, but what a casual, uninformed outsider may pick up is that retail, as we know it, is like the healthcare industry - a monolithic cash cow to be kept perpetually in awe of innovators like Wal-Mart, Tesco, and Amazon and spending vast gobs of money to emulate them.
And why aren't retailers expected to innovate frequently and effectively? As it turns out, the only compelling research of the three-day marathon, presented by Mr. Keeley of the firm Doblin, pointed it out - innovation is the realm of the manufacturers that stock the shelves. And even then, innovation is defaulted to incremental product improvements and marketing. The retailing process has remained embarrassingly staid since Amazon started selling digitally (an inevitable innovation that thankfully ignored nearly 40 years of retailing tradition), and since then, excluding logistics improvements forced upon the sector by none other than Wal-Mart, the process of retailing hasn't been able to change again past merchandizing and interior decorating changes. Consequently, technology vendors have stepped in to make retailing faster, make decisions faster, and execute tactics faster, but regrettably, still hasn't fundamentally altered the way you sell and we buy. And when you give the wheel to a techie, you're bound to get treated like a retard.
Enter consultants who have large stakes in technology implementations and one begins to understand the limitations induced on the retail sector by external forces run amok without proper guidance by the sector's leadership. To all this, a better call to action would be to wake up and smell the register receipt ink as consumers innovate in how they buy, turning your business into what you've been all along, a commodity service, to abuse and exploit for pennies. Of course, there are always exceptions. But you don't have to hire a consultant to inform you that you're not it; hire one to guide the way you distinguish your business from the other commodity retail services.
Overall, the conference was worth attending for no other purpose than to come to this realization about the sector and merits 4 (+ + + +) pluses on our conference rating scale.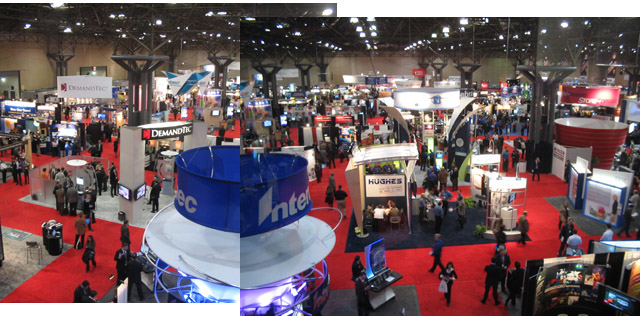 Exhibit floor at Javits Center - the north wing
(1) "Of Three Brains, You Want to Sell to the 'Reptile Brain'"

---
Al Berrios is Managing Director of al berrios & co., an innovative strategy consulting firm advising leaders on the impact of human behavior on their strategies and on how to change their organizations to address the behavior. Write to Consumer Strategies Report at editor @ alberrios.com.