consumer behavior
---
Shopping (Online) But Nothing To Buy
By AL BERRIOS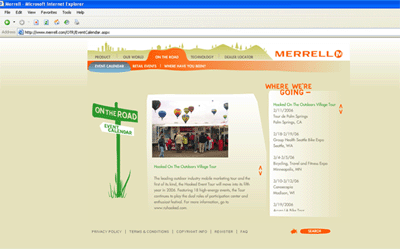 Source: Merrell.com

(Wordcount: 1,080; Pages: 3) I like to consider myself a free-wheeling first adopter, but the consultant in me prohibits me from accepting the fate of the first lemming off the cliff. It has thus taken me a wee bit longer to acclimate myself with the online shopping experience - a possible advantage in this forum, since all you jaded experts have probably forgotten the thrill of shopping online with wild abandon, particularly in a more sophisticated e-commerce world. So, take a trip down memory lane (or anticipation lane for you really late-adopters) with me as I offer you a fresh glimpse into what it's like being an online shopper:

"No Thanks, Just Browsing"

Thanks to Google's Froogle and its ilk (Shopzilla, Pricegrabber, MySimon, Dealtime, Epinions, BizRate), a shopper can browse around the entire internet, rather than just one store at a time. Unfortunately, these browsing tools are set up for shoppers who already know what they're looking for and they're essentially looking around for bargains. What happens to the shopper who just wants to browse without purpose, a shopper who enjoys the experience of carefree spending as much as a walk in the park, the notorious window-shopper with the unpredictable buying impulse? These shoppers spend billions, too, and yet, there's nothing online that facilitates spending for these shoppers. (By the way, for you obsessive-compulsive marketers reading this, these shoppers aren't a separate consumer segment for you to attack on a separate budget. These shoppers can materialize any time in anyone, and despite the insistence of husbands throughout history, not a permanent behavior).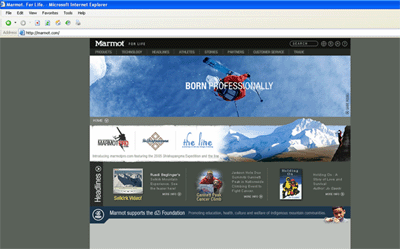 Source: Marmot.com
Can Window Shopping Become "Monitor-Screen" Shopping?
Analyzing the window shopping behavior takes patience. It seems irrational at first - idly wasting time looking for things you want to buy but don't intend on buying. Many even enter shops, grab items, and put them back just when they're about to leave - it's enough to make a retailer stark-raving mad trying to understand. But the behavior is equivalent to flipping television channels or even eating lunch out of the office when the person normally eats at the cafeteria (or vice versa). The behavior is an attempt to seek diversion from the ordinary; a break, with the explicit purpose of changing one's thoughts, not actually engaging in a transaction.
Thus, window-shopping is actually a misnomer, since the person engages in the behavior to entertain him/herself. What makes a person return to a place they've window-shopped to buy what they saw on a prior visit is actually the retailer's presentation of their goods. The merchandising caused the shopper to slip into decision-making mode, whereby they're a step closer to a transaction than they originally intended to be. (The transition occurs when they initiate a mental list of things they'd like to pick up. The rest is text-book decision-making processes.) Because every category of display appeals to different people at different times, every merchant naturally benefits from tailoring their displays to different themes, whether based on season or local flavors. (This is why the holidays are such a blessing; the mood is created by society-at-large and all the retailer has to do is cater to it.)
Unfortunately (for retailers), "monitor-screen shopping" for diversion is just one of a million ways one can entertain themselves with their computer, and as a result, online retailers have not focused on this behavior, much to their loss. But how could an online retailer exploit the "monitor-screen shopping" behavior without additional costs, clutter, and without negatively impacting their brand?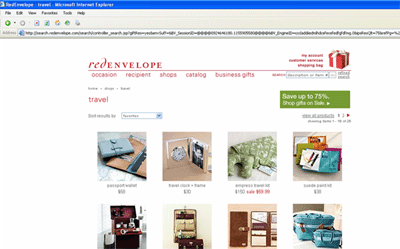 Source: RedEnvelop.com
If You're Not Amazon, What Do You Do?
Well, it turns that Amazon has been thinking about this for quite some time, as evident by their huge investment in a seemingly irrelevant offering: Amazon Fishbowl with Bill Maher, a weekly, whimsical talkshow custom-made just for Amazon, featuring big stars, relevant ads, and another reason for even the most uninterested browser to remain on their site.
But if you're not Amazon with tens of millions to throw at obtuse and unproven tactics like this, (unproven maybe, but absolutely addressing one of our more irrational behaviors, thus, functional), what ever can you do?
For starters, try events. And don't be stingy - put calendars on your site. Nothing draws diversion-seekers with cash in their pockets faster than wild, noisy gatherings; they're certainly not about to be left out of the fun. Check out this footwear manufacturer: http://www.merrell.com/OTR/EventCalendar.aspx.
How about chronicling a story? Whether you sponsor a regular Joe or Fat Joe, there's a story to tell that you're probably not telling. (Since we can't all have Nike's roster of interesting stories to tell - and hopefully, we're also smart enough to leverage those stories - don't be embarrassed to focus on the ordinary user of your products). Their story is meaningful because all stories, when well told, are meaningful. And your monitor-screen browsers will stick around to get to know that story. Of course, culture-defining commercials certainly work, but when the hottest agencies, biggest media budgets, and overwhelming public relations aren't at your beck-and-call, try something simpler. See what I mean: http://marmot.com/.
And don't be scared to let the picture do the talking, since, as you know, they've got much to say. The success of digital photo albums online should have alerted you to how much value everyone places on visual perspectives. If your photos are drab representations of the real thing, you're drab. If your photos are vivid and exciting, you're worth the effort of a click or two. Even Amazon hasn't figured this one out yet. But these guys have: http://www.redenvelope.com.
When you're at wits end, with nothing to do, and no where to go, you should waste some time "monitor-screen" shopping. Being the savvy marketer that you are and fully aware of the short-term feel-good effects of shopping, engage in this experience with the express purpose of being delighted, not sold. Despite the awfully high-tech tracking software employed by most retailers these days (maybe even you) and your system's familiarity with your shopping habits, a familiarity that supposedly parallels your best friend's, I can almost assure you that your browsing experience will seem less rewarding than the one you hoped for, and you certainly won't end up buying anything. As is the case for most of your "monitor-screen" shoppers, you'll most likely end up encountering an experience that ends up in frustration, not delight, simply because you weren't aware that you weren't catering to the behavior of browsing-without-intent-to-buy. Now, you know why that pesky 80% isn't contributing to your bottom line as much as your favorite 20%.


---
Al Berrios is Managing Director of al berrios & co., an innovative strategy consulting firm advising leaders on the impact of human behavior on their strategies and on how to change their organizations to address the behavior. Write to Consumer Strategies Report at editor @ alberrios.com.